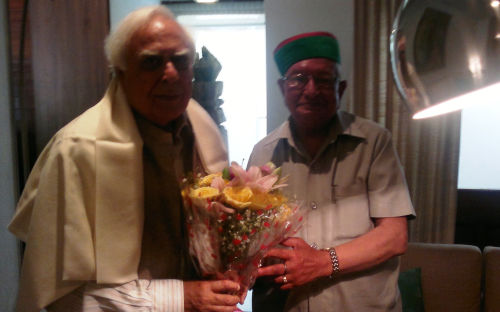 Speaker, Himachal Pradesh Vidhan Sabha Brij Bihari Lal Butail, called on Union Telecommunication and Information Technology Minister Kapil Sibal, in New Delhi today.
Butail said that Centre Government had agreed upon to release Rs. 8.58 crore for e-Vidhan Sabha Project of Himachal Pradesh Vidhan Sabha during April, 2013. He said that the Online Constituency Management Component of this project would be launched by President of India, Pranab Mukherjee on 24th May, 2013 during his ensuing visit to the State.
Vidhan Sabha speaker revealed that the complete e-Vidhan Sabha Project would be launched in September, 2013 during the Golden Jubilee Function of Vidhan Sabha. Besides, the conference of the Speakers of all Vidhan Sabha of the Country would also be organized here, said he.
Butail said that under the project, Complete Constituency Management forVidhan Sabha members would be developed and they would be able to monitor the current status of the activities happening in their constituencies.
The Speaker said that the project would automatize the total process involved in working of legislative assembly and its secretariat including the working of various committees and members of the assembly by providing high emphasis on integration of all Government departments for physical and financial monitoring of schemes and programmes approved by Vidhan Sabha under e-Vidhan Sabha Project.
He also invited Kapil Sibbal, to visit the State during Golden Jubilee Function of Himachal Vidhan Sabha on complete launching e-Vidhan Sabha Project.