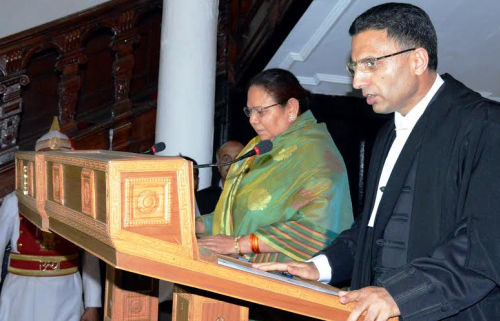 Justice Mansoor Ahmad Mir sworn in as Chief Justice of Himachal Pradesh High Court, here today. Governor Urmila Singh administered the oath of office to him at Rajbhawan.
Chief Secretary P. Mitra conducted the proceedings and read out the warrant of appointment.
Justice Mansoor Ahmad Mir had joined the Himachal Pradesh High Court as Acting Chief Justice on 26.11.2013 and remained as such upto 18.06.2014. During this seven months stint, he decided 4134 cases (3928 in Division Bench and 206 in Single Bench).
Justice Mansoor Ahmad Mir hails from Jammu & Kashmir and has the distinction of being the first Judicial Officer to be posted as Presiding Officer, Designated Court of TADA/Special Judge, POTA for Kashmir Division in May 2002.
Chief Minister Virbhadra Singh, G S Bali, Food, Civil Supplies & Consumer Affairs Minister, Thakur Singh Bharmouri, Forest Minister, Sudhir Sharma, Urban Development Minister, Anil Sharma, Rural Development and Panchayati Raj Minister, Prem Kumar Dhumal, Leader of Opposition, I.D Lakhanpal, Chief Parliamentary Secretary, MLAs, former MLAs, Sanjay Chauhan Mayor, Tikender Panwar, Deputy Mayor, Judges of H P High Court and Jammu and Kashmir High Court, L. S. Panta, Lokayukta, K. S Tomar, Chairman H P Public Service Commission, Chairmen of Various Boards and Corporations, Sharwan Dogra, Advocate General, Judges of lower Courts, Retd. Judges, Sanjay Kumar, DGP, Additional Chief Secretaries, Principal Secretaries, Secretaries, Members of Bar Council, Senior officers of State Government were present on the occasion.