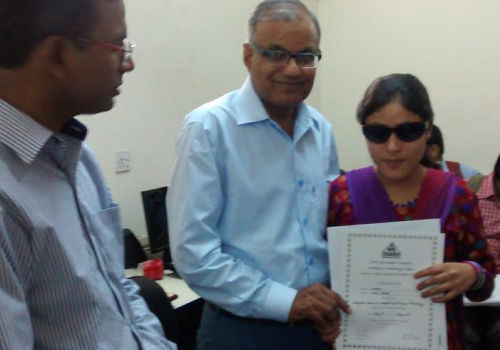 Shimla: With its mission to promote computer education among poor visually disabled students in Himachal Pradesh, Umang Foundation, a public welfare trust, is supporting them in a big way.
First batch of six blind students from the State, sponsored by the Foundation, has completed the two- month Certificate Course in Computer and Access Technology from National Association for the Blind (NAB), New Delhi.
In the valedictory function in New Delhi, Ajai Srivastava, Chairman of Umang Foundation was the chief guest. He was welcomed by Prashant Ranjan, Joint Secretary and Ajay Sharma, Project Manager of National Association for the Blind.
Ajai Srivastava distributed certificates to the 20 students of the batch hailing from Kashmir, Bihar, UttaraKhand, Punjab, Haryana, Delhi and U.P., including Muskan, Kusum, Sangeeta, Vinod, Ajay and Suraj of Himachal Pradesh and supported by Umang Foundation.
In his address, Ajai Srivastava said Umang Foundation has adopted 17 blind girls, 14 hearing impaired girls and 11 blind boys for the purpose of their education. He said
"We are providing with everything with the support of society which is required for their educational empowerment and computer is very much beneficial for blind persons to get a job"
Prashant Ranjan, Jt. Secretary of N.A.B. appreciated the efforts being made by Umang Foundation for the empowerment of the disabled, especially visually impaired.