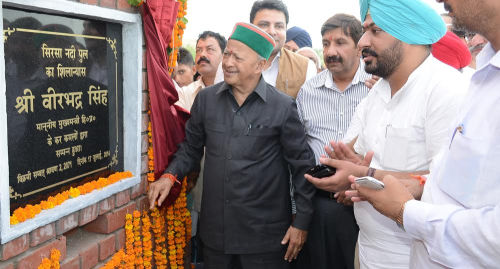 Chief Minister Virbhadra Singh today inaugurated and laid foundation stone of the projects worth Rs. 69 crore during his tour to Baddi-Nalagarh area in Solan district.
While addressing a public meeting at Baddi, he said that he believes in work and serving the people of the state. He said that the Sirsa Bridge the foundation stone of which had been laid by him today will ensure connectivity to as many as seven villages. He also assured to finish the work of sewerage treatment plan at Baddi in a time bound manner.
CM said that the Labour hostel was completed within a year and all such big projects would be finished in a time bound manner in future.
Virbhadra Singh urged for strengthening the hands of the Government so that overall development could be ensured and the State may emerge as a pioneer in the field of education, health, road infrastructure and other sectors in the country.
He said that the Government was committed for providing all possible facilities to the industrialists and will ensure that they get un-interrupted power and water for their units.
Earlier, the Chief Minister inaugurated the much awaited bridge over Chikni rivulet completed with an outlay of Rs. 8.61 crore on National Highway 21 which would connect Nalagarh and Swarghat. He also laid foundation stone of a bridge to be constructed over Sirsa River by spending Rs. 6.48 crore. On completion it will benefit six villages of the area and will besides a population of around six thousand.
He also laid foundation stones of Sewerage Treatment Scheme for Baddi town to be completed at a cost of Rs 34 crore and of Labour Hostel to be constructed at a cost of Rs. 4.5 crore. This labour hostel will comprise of 100 rooms and will have the facility of accommodating as many as 200 labourers. He also laid foundation stone of Science Laboratory of Government Senior Secondary School, Nalagarh to be constructed at a cost of Rs. 95 lakh and Pharma-Testing Laboratory at Baddi to be completed by spending Rs. 8.09 crore.
Chief Minister also inaugurated Rs. 5.50 crore Working Men Hostel at Baddi which will have 66 rooms. The hostel would provide residential facilities to the youth of the State working in various industrial units in Baddi. He also inaugurated office of Superintendent of Police at Baddi completed at a cost of Rs 1.55 crore.
Later, the Chief Minister interacted with the representatives of local Industrialists Association and discussed various issues pertaining to entrepreneurs and the problems being faced by them. The Chief Minister assured them of every possible helps.
Irrigation and Public Health Minister Vidya Stokes said a lot had been done on development front in the State and the government was committed to providing water to every household in the State.
Industries Minister Mukesh Agnihotri said that a sum of Rs 18 crore had been received for the Nalagarh Sewerage treatment Scheme and the work would be started soon. He lauded the efforts of the Chief Minister for ensuring equitable development of all the areas of the State without discrimination.
Social Justice and Empowerment Minister, Col (Dr.) Dhani Ram Shandil, said that the industrial development was necessary for the growth of any area and government was making all efforts that such areas were well connected with roads and have all other such facilities which fulfill the needs of industrialists.
Urban Development Minister Sudhir Sharma, Chairman HP Building & Other Construction Workers Welfare Board, Bawa Hardeep Singh, Ex-MLA Lajja Ram Chaudhary and Lakhwinder Singh Rana, Vice-Chairman Khadi Board, Ramesh Chauhan, Vice-Chairman HP Small Saving Advisory Board, Prakash Karad, Deputy Commissioner, Madan Chauhan, SP Arul Kumar, Director Industries, Rajinder Singh were also present on the occasion among senior officers of the district administration and others.