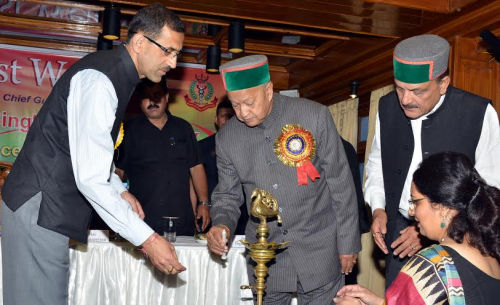 Chief Minister Virbhadra Singh has stressed the need for further advancement in health sector so as to overcome the challenges of rising diseases. He said that Himachal Pradesh had one of the best health indicators in the country but State Government was committed to strengthen the health services network upto the remotest areas.
The Chief Minister was presiding over the inaugural function of Annual State Conference of 'Him-Medicon 2014' organized by State Chapter of Indian Medical Association (IMA) at Hotel Holiday Home, Shimla.
Virbhadra Singh said that Himachal Pradesh had shown creditable improvement in the health sector the credit for which goes to the medical, nursing and paramedical staff. He said that the State government was endeavouring to provide best medical services in the remotest places. The State was also introducing Mobile Diagnostics Units which would be having the complete complement of various facilities such as X-Rays, ECG, ultrasound and Lab services. With the difficult geographical terrain, these MDUs would enable people to have access to all these facilities at their door- steps.
Singh said that with a view to reduce patient load on two premier medical colleges and hospitals, the faculties should reach to secondary institutions like our Zonal Hospitals. He complimented the Neurology Department of both the Medical Colleges for starting project Telestroke and hoped that the outreach services will commence shortly at Solan, Nahan, Hamirpur and Dharamshala. He asked the other departments to follow the similar initiatives. He said that it was appreciable that both medical colleges are tying up with AIIMS, New Delhi and PGI Chandigarh for Tele-education for which the Government would provide all support.
He congratulated the Indian Medical Association for holding this conference and expressed hope that deliberations in the conference would come up with suggestions which were beneficial for providing the best of medical facilities to entire population.
Chief Minister also released a souvenir of IMA and a book titled 'Some Pages of Doctor's Diary' written by Dr. Sushma Kaushal.
Dr. Rajeev Rai, President, State IMA welcomed the Chief Minister and detailed about the activities of the IMA. Dr. Atul Mahajan, General Secretary, State IMA presented annual report. Dr. R.J. Mahajan, Organizing Secretary proposed vote of thanks.
Chief Parliamentary Secretary, Health Nand Lal, Chairman, H.P Buildings and Other Construction Workers Welfare Board Bawa Hardeep Singh, Vice Chairman HIMUDA Yashwant Chhajhta, Chairman, H.P. Board of School Education Balbir Tegta, Advisor to Chief Minister T.G. Negi, Members of IMA and other senior officers were present on the occasion.