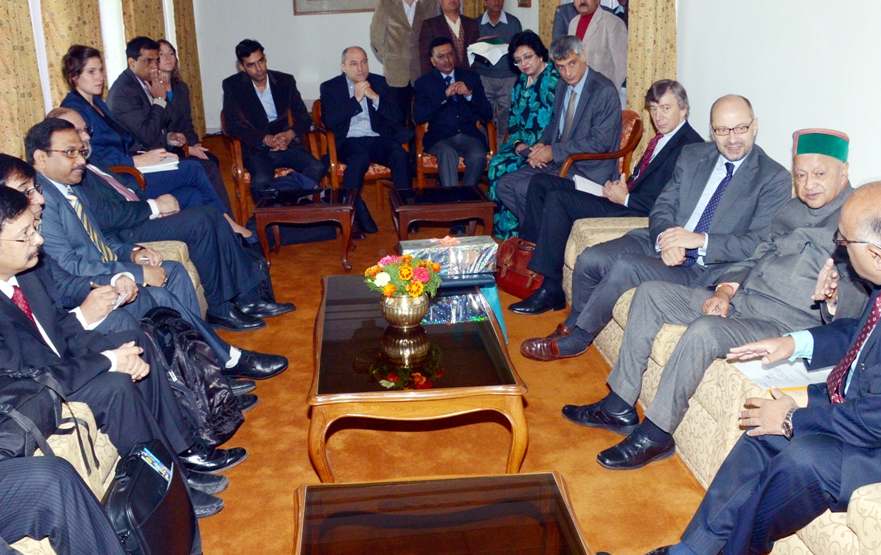 Exploring opportunities to invest in Smart Cities project in the Himachal Pradesh, a French delegation headed by the Ambassador of France in India, Francois Richier called on the Chief Minister Virbhadra Singh here today.
The delegation deliberated upon various issues pertaining to advanced technologies for developing energy and power projects for Smart Cities in the State. It also shown interest to invest in the State and vowed to share its technology to find out transport solution and mobility, technical solutions for waste collection, urban transportation and re-cycling, appropriate technology for introducing decentralized seepage management system etc.
The Chief Minister said Himachal Pradesh intends to take up and develop major towns like Shimla, Manali, Dharmashala etc. as Smart Cities. The French Government had shown its keenness to adopt the towns and the State government would take up this matter with Ministry of Urban Development Government of India.
The Chief Minister honoured the French delegates and assured to study the proposals and seek their valuable and technical expertise as and when required.
Jean-Rene, Minister Counsellor and Head of Regional Economic Services for South Asia, Ilika Mann, Counsellor for Regional and Legal Relations, Embassy of France, Fanny Herve, Counsellor Sustainable Development, Embassy of France, Camille Severac, Project officer, French Development Agency in India (AFD) and other delegates specialized in the field of Urban Development and Solar Energy, Vineet Chaudhry, Additional Chief Secretary, Urban Development, V.C. Pharka, Additional Chief Secretary, Poornima Chauhan, Special Secretary, Urban Development, Capt. J.M. Pathania, Director, Urban Development and other senior officers of the State government were present on the occasion.