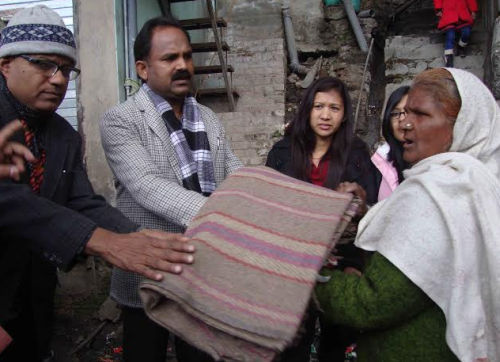 Shimla: Umang Foundation, a public welfare trust, distributed 2000 woolen blankets to the most underprivileged persons during its week long campaign – " No one should die of cold" in Shimla, Chamba and Kinnaur districts of Himachal Pradesh since the State in the grip of snowfall and severe cold wave. The focus was on the poor destitute women, elderly persons, children, mentally sick persons, leprosy patients and the persons living in rain shelters and bus stands in and around Shimla. The campaign ended today.
Prof. Ajai Srivastava, chairman of Umang Foundation, said the young team of the foundation started this mammoth task last Monday defying tough cold and snow and traveled during night to find persons living in rain shelters and bus stands in and around Shimla and provided them with blankets. They visited special school for the blind and deaf at Dhalli, Nari Sewa Sadan and Balika Ashram at Mashobra, Sarvodaya Balika Ashram at Durgapur, Balika Ashram at Sunni, Sarvodaya Ashram for Boys, Shimla, Cancer Hospital, Mental Hospital Shimla and IGMC hospital Sarai to meet the inmates of these institutions and know their problems. Woolen blankets were also given to all the inmates.
In Shimla, last year about 150 families, mostly poor dalits, were become homeless as massive landslide had damaged their houses. They were in an urgent need of woolen blankets as the hills have seeing snowfall and the mercury in below zero during nights. The Umang Foundation gave in total 500 blankets to them covering each members of every family. The leprosy patients at Kushth Ashram Colony were also feeling great relief after receiving blankets.
Some of the social organizations including Red Cross Shimla, Inner Wheel Club, Sewa Bharti, Himgiri Kalyan Ashram , Lok Kalyan Samiti and Balzara Trust so that they can provide the blankets to the persons in need. The dedicated young team of Umang Foundation included Yashwant Rai, Vimla Thakur, Surender Kumar, Vikram Zinta, Arpana Negi, Sarita Verma, Kusum Verma, Simmi Rawat, Chandan Chauhan and Vikrant Zinta and others, Prof. Ajai Srivastava added.