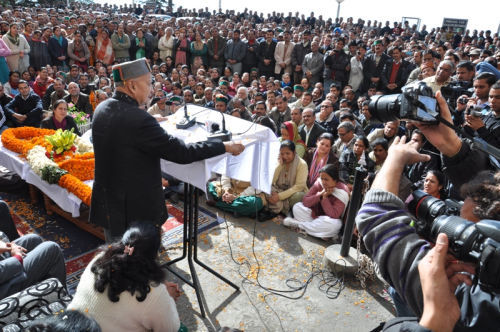 To ensure better livelihood for the poor, disabled and weaker sections of the society the State Government claiming to launch various schemes for benefiting them.
The first thing the Present Government did after coming to power was enhancement in social security pension of widows, disabled and old aged persons from Rs. 450 to Rs. 500 and sanctioned all the 17,335 pending cases of social security pension. In addition to this, the social security pension of Rs. 1000 is also being provided to those above 80 years of age.
As of now, the as many as 2,92,921 persons were being provided social security pension. Besides, the Government enhanced the Disability Allowance from Rs. 450 to Rs 500, payable from 1st April, 2013, to those with more the 40 percent disability. The scheme is framed basically with the objective to consider persons with disabilities as a part and parcel of society and making opportunities available to them so that they can participate in all spheres and activities of life as a normal person does.
Similarly the persons with more than 70 percent disability, and not employed in any Government, Semi Government, Corporation and Boards are being given disability allowance at the rate of Rs. 500 per month without any income criteria. To promote the welfare of the disabled and to formulate their relief and rehabilitation programmes both in Government and voluntary sectors, a Handicapped Welfare Board/ committee is set up. Two rehabilitation centres under National Programme for Rehabilitation of Persons with disabilities have been set up at Dharamsala and Hamirpur, which are providing rehabilitation services to the persons with disabilities.
In order to provide social justice and empower the most vulnerable sections of the Society, i.e. schedule caste, schedule tribes Backward classes, minorities the State Government has launched various programmes to improve the socio-economic condition of these sections so as to bring them into mainstream of the society.
With the objective to provide suitable shelter to SCs/STs/OBCs, the subsidy for construction of house which was Rs 48,500 earlier have now been increased to Rs. 75,000 for such houseless families of Schedule Castes, Schedule Tribes and Other Backwards categories whose annual income is below Rs. 17,000.
The socio-economic empowerment of women is one of the prime concern of the Himachal Government. The raising of educational and economic status of women helps in bringing up their social status as well. In Himachal Pradesh women constitute about 50 percent of the population many measures, both legally and constitutionally are adopted by the State Government for empowering women. For spreading awareness amongst women, the Government is providing financial assistance to Women Commission.
To ensure that girls of the poor families do not face economic hardships, an assistance amount for marriage has been increased from Rs. 21,000 to Rs. 25,000 under ' Mukhya Mantri Kanya Daan Yojna'. The assistance given for remarriage of widows has also been increased Rs. 25,000 to Rs. 50,000.
The grant for inter cast marriages has been increased from the existing Rs. 25,000 to Rs. 50,000. Similarly, the grant for remarriage of bonafide deserted women has been increased to Rs. 25,000.
With a view to provide shelter and educational facilities to the orphan /destitute children between age group 6-18 years, as many as 20 Bal Balika Ashrams are being run both in Government and NGO sector. The children are provided free boarding and lodging besides clothes to them upto ten plus two level.
Grant is being provided by the Government to HP Council for Child Welfare and State Social Welfare Board for running as many as 110 'Balwaris' through the State wherein pre-school education is being provided to the children under six years of age.
The protection and care services being provide to the orphan and destitute children would be further strengthened by setting up district child protection units in Mandi, Kangra, Shimla and Chamba Districts.
The Government is establishing two open shelters at Shimla and Kangra for those children who need care and protection and will remain there till they are properly rehabilitated. The State Government in its short tenures has implemented various welfare programmes so that every section of society is benefitted of development programmes.