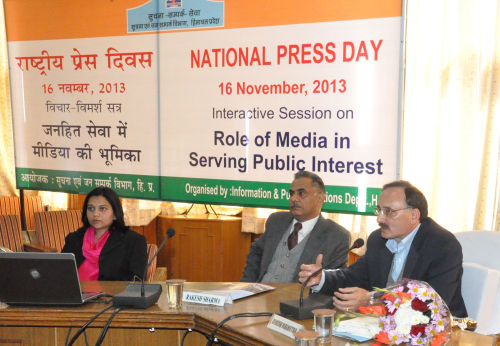 Shimla: Terming media as responsible and accountable towards the society, Dinesh Malhotra, Deputy Commissioner, Shimla who was also the Chief Guest on the occasion of National Press Day said that media being the fourth pillar of the democracy was more duty bound towards the society and had much responsibility because of rising expectations of the people from them.
Organised by the Department of Information and Public Relations, the National Press Day function was held at Bachat Bhawan here today.
Malhotra stressed for highlighting the issues pertaining to public interest more effectively. He said that every issue of public interest carried by the media has its own importance for any government to do justice to the people as it was the best medium of feedback.
Speaking on the subject 'Role of Media in Serving Public interest', he said that media should be more committed towards its duties, aims and objectives in the present circumstances despite commercial competition. The media should give adequate space and time to the issues of public interest for welfare of the society.
Rakesh Sharma, Director, Information and Public Relations said that the power of Press should be utilized for welfare of democracy. He said that Press was not only serving the public interest but also protecting our rich cultural values. He said that it was need of the hour to introspect for achieving the objectives for which Press Council of India was established. He said that media should use its wisdom while taking up various issues and to motivate itself for analysing its aims and objectives.
Rachna Gupta, Editor, Dainik Jagran, Himachal Edition said that media was playing a constructive role even though there was cut throat competition in the era of liberalization and globalization. Sandeep Upadhayay, Resident Editor, Dainik Bhaskar, Himachal Edition said that public interest was of great importance though commercial angle from media point of view can not be ignored.
Prof. Veer Bala Agarwal, Department of Journalism, H.P. University highlighted the importance of Citizen Journalism and said that accountability and transparency in media should be maintained at every cost.
An interaction meet was also organized on the occasion in which senior journalists expressed their views on the subject.
R.S. Negi, Joint Director, Information and Public Relations proposed vote of thanks. Present on the occasion were senior journalists, press correspondents and officers of Information and Public Relations.