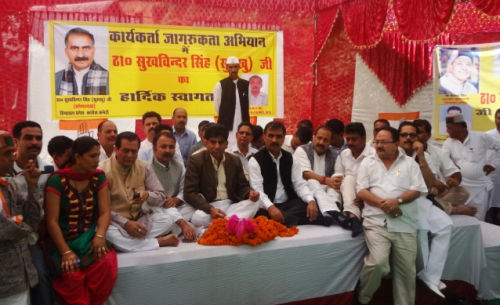 Bhoranj: Himachal Pradesh Congress Committee (HPCC) President Sukhvinder Singh Sukhu today said that party workers should spread aware about the people centric policies of Congress led UPA government as well as state government to dispel the false propaganda led by opposition parties.
While addressing party workers under his Karyakarta Jagrukta Abhiyan (Workers' Awareness Campaign) at Bhoranj here today, Sukhu said, "General public should be made aware about the policies that are launched for their benefit over the years by the state government as well as UPA government so that they know about the true philosophy of Congress party as well as AICC President Sonia Gandhi and Prime Minister Manmohan Singh."
Sukhu urged the party office bearers to maintain discipline in the party and said that the party leaders and workers are working in well coordinated manner in the state. He stressed at the need for strengthening party organisation at block and booth level. He revealed that HPCC starting conventions at booth level to further boost the morale of party workers. HPCC president said that Congress is in good shape to win all four parliamentary in upcoming Lok Sabha elections in 2014.
AICC Secretary and In-charge Himachal Congress Raja Ram Pal, HPCC General Secretary Ajay Mahajan, In-charge district Hamirpur and HPCC General Secretary Sunil Sharma, DCC President Naresh Thakur, Ex. MLA Kuldeep Pathania, HPCC members Suresh Kumar and Rajinder Zar, Congress Nominee from Bhoranj Ramesh Dogra, Chairman Prem Kaushal, Block Observer Vivek Kumar, BCC President Bhoranj Rajiv Lal Meher, Zila Parishad member Promila Dhiman, DCC General Secretary Tej Nath Sharma, Ram CHander Pathania, District President NSUI Saurabh Katoch, Block Youth President Vinod Rangra, Ex DYC President Atul Karota and party workers were present in the meeting.