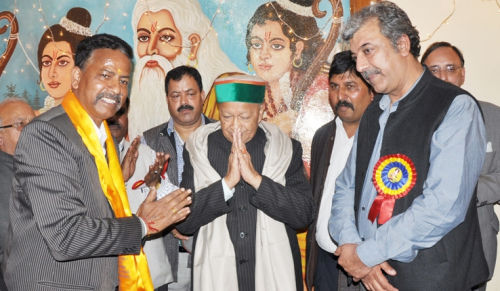 Maharishi Balmiki Jayanti was celebrated with reverence today. Chief Minister Virbhadra Singh paid obeisance at Maharishi Balmiki temple in Krishnanagar and while addressing devotes, Singh said that Ramayana authored by Maharishi Balmiki was an embodiment of culture and religion and it provided an insight into the Indian System of thought to the World.
Virbhadra Singh said that Maharishi Balmiki preached the message of humanity, brotherhood and moral values. Maharishi Balmiki gave the message of philosophy, humanity and virtue of friendship to the people and taught about Selfless service for the society which was the core value of Indian religion.
He said that balanced development of the State was priority of the present Government and many welfare schemes were being implemented to achieve this objective. He said that Rs. 1014 crore were being spent under Schedule Caste Sub Plan during current financial year so that this community could avail benefits of various welfare schemes. Government of India had sanctioned Rs. 33.99 crore for Krishananagar Slum Area under Rajiv Awas Yojna. Rs. 9.26 crore had been received as first installment under this scheme, he added.
Virbhadra Singh said that State Government was providing Rs.75,000 as Housing Subsidy for construction of new houses to SC/ST and OBC beneficiaries. He said that State Government was providing Rs. 50,000 as grant for inter caste marriage.
Chief Minister said that the link road leading to Krishnanagar area would be widened to facilitate the people. It would also help in providing better ambulance services to the people of the area.
Virbhadra Singh directed the Deputy Commissioner to identify suitable land so that Balmiki temple could be expanded. He said that Government School Krishnanagar would be upgraded to High School from next academic session. He also inaugurated Balmiki Gate on the occasion.
Rajpal, General Secretary, Balmiki Sabha welcomed the Chief Minister and detailed about the programmes being celebrated on the occasion. He also apprised the Chief Minister about problems of the Krishnanagar area.
Sohan Lal, former Mayor, Municipal Corporation, Shimla, Harish Janaratha, former Deputy Mayor, MC Shimla, Dinesh Malhotra, Deputy Commissioner, Panna Lal, President, Balmiki Sabha, Rajender, Vice President, Balmiki Sabha, senior officers and prominent people of the town were present on the occasion.