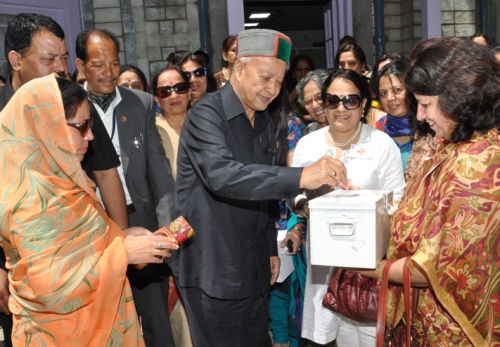 Chief Minister Virbhadra Singh said that Red Cross was rendering yeomen services in providing relief to the poor and underprivileged section of the society besides extending instantaneous help to those injured in accidents or affected by some natural disaster.
Chief Minister was talking to the members of H.P unit of Indian Red Cross Society and H.P Red Cross Hospital Welfare Section, who met him today at his official residence on the occasion of World Red Cross Day. They also pinned up Red Cross flags to the Chief Minister and Former Member of Parliament and Chairperson, H.P Red Cross Hospital Welfare Section, Pratibha Singh.
Virbhadra Singh said that all District Red Cross branches in the State were doing commendable work in providing succour to the deprived section of the society. He also stressed the need to further expand the Red Cross activities in the State and appealed the well-off to donate generously towards Red Cross fund so that more needy people could be reached out for help.