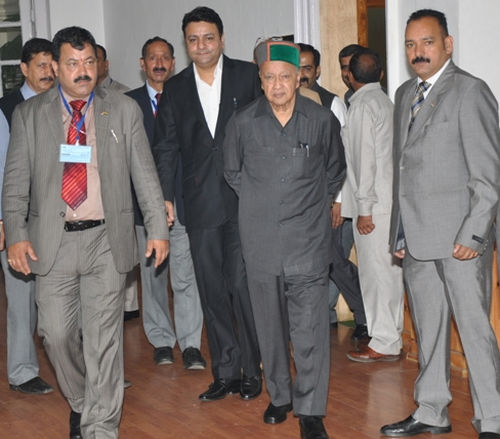 Reacting on the recent revelation by the state vigilance and anti-corruption bureau, where the HPCA Kanpur address was found to be fictitious and non existent, Himachal Pradesh Chief Minister Virbhadra Singh said that the Himachal Pradesh Cricket Association, headed by BJP MP Anurag Thakur had committed a big fraud with the people of the state and the government. Singh said while addressing press after the House was adjourned.
Singh added that it was not right time to reveal the more details about the ongoing investigations, but hinted that probe can reveal more surprising facts and fraud in the HPCA's set-up. He said that probe will also reveal stunning facts about the working of the HPCA in the coming time.
Chief Minister Virbhadra Singh also accused HPCA to bent rules to allow players from other states to represent Himachal Pradesh in Ranji trophy.
Earlier yesterday, officials of the state vigilance and anti-corruption bureau have revealed that during its probe they had found the HPCA's registered address in Kanpur bogus. HPCA was initially registered with the Registrar of Companies, in Kanpur in July 14, 2005, which was later shifted to a Chandigarh address in 2011. However, not investigation team is now investigating its Chandigarh address as well.
Chief Minister also sought an unconditional apology from former chief minister and leader of opposition Prem Kumar Dhumal for allegedly "suppressing" his political opponents during his tenure.
He also asked Dhumal and DS Manhas, former director general of police, to apologise to the people of state for using power to settle their personal score. He described Manhas as the mastermind behind Dhumal for political victimisation. He asked Dhumal to set one example of political vendetta during his previous tenure as chief minister. Singh claimed that he had not even framed a single case against any BJP legislator. While clarifying charges against two former ministers – Dr Rajeev Bindal and Kishan Kapoor, Singh said that cases were registered on the orders of the high court.
Chief Minister said that Dhumal had started political vendetta during his regime. He said that Dhumal had framed false cases against him during his both tenures.