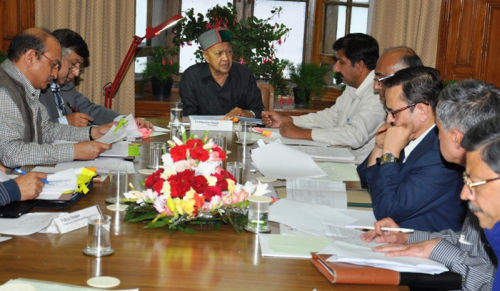 The State level Single Window Clearance and Monitoring Authority (SLSWC & MA) in its 68th meeting, presided by Chief Minister Virbhadra Singh, approved two new proposals for setting up industrial units in the State and granted approval for expansion of 13 revised proposals of existing units with combined proposed investment of Rs. 790.24 crore with employment potential to 1805 persons.
The Authority approved new proposals of M/s United Biotech Pvt. Ltd. dealing in manufacturing of life saving drugs with an investment of Rs. 550 crore having employment potential of 316 persons. Another new proposal of M/s JCO Agro Fresh Pvt. Ltd. with proposed investment of Rs. 21.98 crore was approved for setting up cold storage for Apple and other fruits and vegetables at village Kachii, in Theog of district Shimla with employment to about 10 persons. The investment of Rs. 571.98 crore would be done by both the units.
Among the expansion and modernization of existing units, the revised proposal of investment of Rs. 218.26 crore with employment opportunities to 1479 persons has been approved by the Authority.
M/s Khurana Oleo Chemicals Unit-II set up in village Maganpura in Tehsil Nalagarh of district Solan has proposed to invest Rs. 17 crore with employment potential to 60 persons for manufacturing of Solenoid valves Compressor Spares, Industrial Automation products, Toileteries, Detergents and other allied products, M/s Ranbaxy Laboratories Limited in industrial area Baddi proposed to invest Rs. 84.70 crore with employment potential to 272 persons for manufacturing of Soft Gel Capsules at Bhatolikalan in Baddi, M/s Swan Aluminiums Pvt. Ltd., Jharmajri in Baddi proposed to invest Rs. 25.74 crore with employment potential to 57 persons for manufacturing Flat Rolled and hot rolled products of stainless steel. M/s Theon Pharmaceuticals Ltd., Saini Majra, Tehsil Nalagarh in district Solan proposed to invest Rs. 24.71 crore with employment opportunities to 143 persons for manufacturing of tablet, capsule, dry syrup, ointment, sachets neutraceuticals and M/s Su-Kam Power Systems Ltd., Baddi proposed to invest Rs. 25.60 crore for manufacturing of Inverter, Home UPS, Battery and UPS by providing employment opportunities to 486 persons.
The Chief Minister in the meeting stressed on providing qualitative and uninterrupted power supply to the industrial units. He said that opportunities should be explored to sell surplus power to the neighbouring States for additional income so that the entrepreneurs investing in the State could be provided power at lesser rates. He said that the State had enough land and power supply potential and the industrial units should be given reliable supply round the clock. He said that the vacancies of field staff of HPSEB should be filled on priority so that quality power could be ensured to the units as well as the people of the State.
Mukesh Agnihotri, Industries Minister said that attractive packages should be prepared so that reputed business houses could be attracted for setting up their industrial houses in the State and besides, other incentives needed to be provided to them.
S. Roy, Chief Secretary, P.C. Kapoor, Additional Chief Secretary, Industries, V.C. Pharka, Principal Secretary to Chief Minister, Dr. Shrikant Baldi, Principal Secretary, Finance, R.D. Dhiman, Principal Secretary, MPP and Power, Rajinder Chauhan, Senior Industrial Advisor were present among others in the meeting.