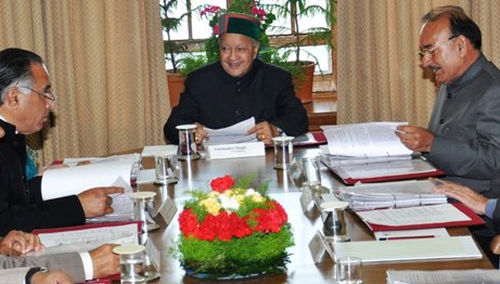 Himachal Pradesh Cabinet, which met here today under the chairmanship of Chief Minister Virbhadra Singh, accorded approval to give skill development allowance to the eligible educated unemployed youth for their skill development. This decision has come in fulfilment of promise made by the Congress Party in its election manifesto. The Chief Minister had announced to start Himachal Pradesh Payment of Skill Development Allowance to Educated Unemployed Persons Scheme during his budget speech.
The scheme aims at enabling such youth to develop their skill which in turn will enable them to take up employment or self-employment in the sector of their choice. Under the scheme, provision has been made to provide skill development allowance to the youth aging between 25 to 35 years of the State who have at least passed ten plus two from State recognised educational institutions and whose name was registered in employment exchanges for the last two years at the time of submission of application. Under the scheme, the candidates will be given an allowance of Rs. 1000 per month whereas those eligible youth who are 50 percent or more handicapped will get Rs. 1500 per month.
The cabinet decided to enhance marriage grant to bonafide Himachali destitute/women to Rs. 25,000 and also to enhance the income limit for eligibility to Rs. 20,000 per annum under Mukhya Mantri Kanyadan Yojana.
It also approved the revision of pension of pre-2006 pensioners. The pension of pensioners and family pensioners of pre-2006 period will be further stepped up to 50 percent and 30 percent respectively of the minimum of the pay in the pay band and grade pay corresponding to the pre-revised pay scale.
The decision was taken to enhance winter allowance from Rs. 200 to Rs. 300 per month of the employees of the State working in tribal and hard areas.
Cabinet also accorded its nod to approve the procedure for clearance of proposals by State Level Single Window Clearance and Monitoring Authority (SLSWC&MC) for setting up of industrial units in the State with-in 90 days of the receipt of the proposal. This decision has also come in fulfilment of Chief Minister's announcement in his budget speech.
The Cabinet decided to enhance the benefits under the welfare schemes framed under the H.P. Building & Other Construction Workers Rule, 2008. It also approved to enhance the financial assistance under Widow Re-marriage Scheme from Rs. 25,000/- to Rs. 50,000/-
Cabinet gave its nod to upgrade Primary Health Centre Katola to Community Health Centre Katola in District Mandi. It also accorded its approval to upgrade Community Health Centre Haroli to 50 bedded Civil Hospital in Una District.
Cabinet also gave its approval to create posts for the newly opened Primary Health Centre at Gulthani Jawaharnagar and Sub Tehsil Dhami in Shimla District.
The cabinet took decision to issue show cause notices to all five cement plants which had been approved in the past but had not taken adequate steps for commissioning of the plants, asking them why the approval granted to them may not be withdrawn. These cement plants include Keran Limestone deposits, Tehsil Sundernagar, Distt Mandi of M/S. Harish Cements Ltd, Alsindi plant in Karsog Tehsil of Mandi district of M/S Lafarge India Pvt. Ltd, Gumma-Rohana plant, Tehsil Chopal in district Shimla of M/S The India Cement Ltd., Cement Plant (Unit-II) based on already leased out Baga Bhalag Limestone deposits in Teshsil Arki of Solan district by M/S Jai Prakash Associates Ltd., and Baroh-Shind plant in Tehsil Churah of Chamba district by M/S Jai Prakash Associates Ltd.
It was also decided to grant prospecting license to M/S Reliance Cement Company for setting up of a large cement plant based on Limestone, Shale and Quartzite in village Sugarthi, Thangar, Kura Khera, Pauli Kheram Kandal and Bedera in Chopal tehsil of Shimla district measuring 25 square kilometres (2500 hectares).
The cabinet gave approval for extending Shahnahar project Division, Ghandran up to 31 December, 2013. The cabinet gave consent for declaring one barrack each of Model Central Jail Nahan, Model Central Jail, Kanda, (Shimla), District Jail Chamba, Sub-Jail Mandi and Sub-Jail Solan as open jail.
Approval was given to amend recruitment and promotion rules of Child Development Project Officers in H.P Social Justice & Empowerment department and restore earlier provisions of 2007.
It also accorded approval for filling up of six posts of treasury officers in Treasury, Accounts and Lottery Department in the pay scale of 10,300-34800 and 5000 grade pay by direct recruitment through H.P Public Service Commission. Approval was granted for creation of Cyber Treasury enabling online receipt of all kinds of government receipts in the department. It was decided to fill up six posts of drivers through outsourcing in Water Supply and Sewerage Division, Shimla of Irrigation & Public Health Department.