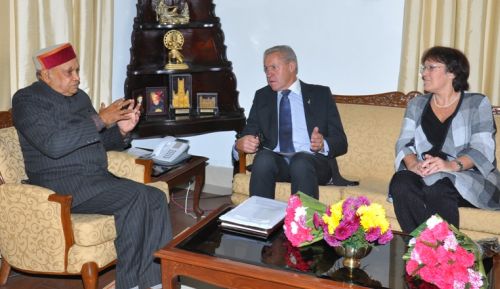 New Zealand would be extending co-operation to Himachal Pradesh in strengthening the horticulture and agriculture sectors by providing expertise and technology transfers. This follows a meeting of Chief Minister Prem Kumar Dhumal with visiting high level official and business delegation headed by Minister of Primary Industries of New Zealand, David Carter, at his official residence, here today.
Chief Minister welcomed the proposal of the New Zealand Government to collaborate with the State in technology transfer in the field of horticulture and agriculture sectors. He said that horticulture was the major cash crop in the state and was contributing significantly towards state gross domestic product while agriculture had been the traditional avocation in the State as over 90 percent of the population was directly or indirectly dependant for their livelihood over agriculture. He said mutual collaboration between the two countries would be beneficial to the state in the field of horticulture and agriculture sectors. He said that the State had only 4 to 9 MT per hectare of apple yield as compared to over 25 MT per hectare yield in New Zealand. He said that the State would import quality and early variety root-stock of apple from New Zealand for multiplication in different laboratories in the State for further distribution amongst the horticulturists.
Prof. Dhumal said that most of the horticulture and agricultural activities in the state were based upon rain fed irrigation compared to cent percent irrigation facilities in New Zealand. He said that the apple season in the State starts from July end and concludes by October end every year while in New Zealand the season starts in April and ends by June. He said that possibilities could also be explored to meet the demand of fresh apple during off season in the State. He said that the State was keen to take benefit of the expertise in creating irrigation infrastructural facilities to the fruit growers and farmers so that dependence upon rains was minimized. He said that creating cold chain to preserve the fruit and vegetables grown in the state could also be beneficial with mutual cooperation between Himachal Pradesh and New Zealand. He said that since apple crop was highly perishable commodity having limited shelf life and with the facilities of cold chain, the shelf life of the fruit and vegetables could be prolonged to fetch remunerative prices by marketing the same at appropriate time.
Prof. Dhumal said that fruit processing industry was another field where New Zealand could lend its support to the state so that instead of marketing the produce to distant markets the same were processed to produce value based products for marketing. He said that it would go a long way in generating employment and self employment to the growers within the State.
He said that Himachal Pradesh was popularly known as 'Apple State of India' and was poised to emerge as 'Fruit Bowl of India'. He also apprised the delegation of the industrial friendly environment in the State and benefits available to the entrepreneurs. He underlined the need to work out further details at appropriate level to finalize the proposals and invited New Zealand delegation to make more frequent visits to the State to explore other sectors.
Davit Carter, Minister of Primary Industries, New Zealand, apprised the Chief Minister of the possibilities of mutual cooperation between New Zealand and Himachal Pradesh in both sectors. He said that Himachal Pradesh had vast potential to increase apple yield by planting high yielding varieties and replacement of old root stock where New Zealand could lend its support. He said that similarly technology transfer in agriculture sector could be another sector where New Zealand could provide its expertise. He said that New Zealand would explore more sectors where mutual cooperation could be strengthened. He introduced the business delegation to the Chief Minister who individually showed their interests in investing in Himachal Pradesh.
New Zealand delegation consisted of Heather Carter wife of David Carter, Minister of Primary Industries, Shari Mannan, Private Secretary, Cris Carson, Director International Policy, Jan Henderson, High Commissioner of New Zealand, Kanwaljeet Singh Bakshi, MP from New Zealand, Richard White, Trade Comissioner, Gareth Pidgeon, Second Secretary, Mridu Vats, Policy Advisor. Business Delegation consisted of James McVitty, Fonterra, Jogn Monaghan, Fontera, Ross Verry, ANZ Bank, Sunil Kaushal, India-NZ Business Council/ANZ Bank, Sameer Handa and Swantantra Gagneja, Patton Refrigeration, Jon Calder and Tony Begbie, NZ Fieldays, Tim Ritche, NZ Meat Industry Association, Nadine Tunley and Alan Pollard, Pipfruit New Zealand, Grand Sinclair, Mr. Apple NZ Limited and Mike Simpson, Waimea Nurseries. R.S.Gupta, Principal Private Secretary to the Chief Minister and Dr. Gurdev Singh, Director of Horticulture were also present on the occasion.