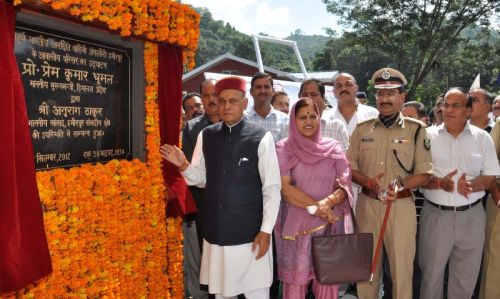 The State Government had made sincere and honest efforts to compensate people of the State to overcome repeated price rise by enhancing their purchasing power and releasing subsidies on various essential commodities and services. Chief Minister Prem Kumar Dhumal said it while addressing public meeting at Jangal Beri, in district Hamirpur today. He also dedicated newly constructed residential complex of 4th India Reserve Battalion, constructed at a cost of Rs. five crore. He also dedicated newly constructed Science Laboratory of Government Senior Secondary Building, Jangal Beri, constructed at a cost of Rs. 85.50 lakh. He also inaugurated Ayurvedic Health Centre building completed at a cost of Rs. 10 lakh, earlier.
Prof. Dhumal said that the Central Government had always been discriminating with non-UPA ruled states as the rice quota had been reduced from 18,500 MT to 7,100 MT, kerosene oil from 5,411 KL to only 2,000 KL. He said that the ration card holders who were getting one Kg sugar per person during NDA regime had been reduced to 550 gram in UPA regime. He said that the State had lowest VAT on diesel which was 9.60 percent while it was at 14 percent during Congress regime. He said that the State Government had been making all out efforts to compensate the people by enhancing their purchasing power and lowering markets rates to the minimum possible. He said that it was unfortunate that UPA had been increasing price of petroleum products and limiting supply of LPG to the consumers. He said that the State Government was spending Rs. 140 crore on subsidized essential commodities and Rs. 190 crore on subsidized power to domestic consumers to provide relief to common man.
Chief Minister lauded the efforts of GSSS, Jangal Beri for providing bi-lingual facilities to their students, whether to study in Hindi and English, which was a role model for rest of the State. He said that the State Government had earmarked 19 percent of its budgetary provisions, highest in the country, for spending over education activities during current financial year, compared to only 4.85 percent by the Government of India. He said that quality education was the need of the hour and the state government was endeavouring to provide quality education to the students at their door steps. He said that there was no substitute for hard work and exhorted students to work hard to excel in their lives.
Prof. Dhumal appealed to the people to evaluate the achievements made by the State which had benefited the people of the State because of various policies and programmes implemented by the Government. He said that it was necessary to maintain the tempo of balanced and uniform development in the State. He announced Rs. 3.00 lakh for two rooms of GPS Jangal Beri, Rs. one lakh for boundary wall of Ayurvedic dispensary for toilets and boundary wall; Rs. 1.35 lakh for providing 100 benches in GSSS Jangal Beri. He said that funds would also be provided for construction of boundary wall of GSSS, Jangal Beri and Hall to be constructed therein. He sanctioned Rs.one lakh for boundary wall at Bhated and assured that GMS Sairi would be upgraded to GHS from next academic session. Later Chief Minister also dedicated residential complex for police personnel at Sujanpur, completed at a cost of Rs. 40 lakh and laid foundation stone of Remodelling and Extension of LIS Bhaleth, estimated to cost Rs. 2.00 crore to irrigate 3,325 kanals of farm land in four villages in the area.
Shri I.D.Dhiman, Education Minister, thanked Chief Minister for dedicating modern science block to the students of the school and said that a education had been accorded top priority of the State Government wherein budgetary provisions had been increased by two and half times. He also congratulated Chief Minister for winning 71st Award, Agriculture Leadership Award, for the State which speak volumes of the priority being accorded to farm sector in the State. He said that every State was getting central sponsored schemes for which funds in the ratio of 65:35 were being shared by Centre and State. He said that each uniform under Atal School Uniform Scheme was costing Rs. 600 which also included stitching charges of Rs. 100 being paid by the State. He questioned opponents creating misunderstanding about the scheme, that if free school uniform scheme belonged to the Centre so why did not the Congress ruled states had implemented the same in their respective states.
Smt. Urmil Thakur, MLA, also welcomed the Chief Minister to her home segment and for dedicating developmental schemes to the people of the area. She said that Jangal Beri, which at one point of time was an isolated area, was connected with all weather road and 9 bridges to provide year round connectivity connecting Sandhol area in district Mandi as well. She said that with the construction of two proposed hydel projects economy of the area would get changed. She thanked for establishing Rs. 3 crore Chilling Plant in the area which would contribute significantly in bringing about while revolution in the area. She said that spectacular overall and balanced development were testimony to achieve 'Mission Repeat' in the State.
Virender Thakur, President, Sujanpur BJP Mandal, welcomed the Chief Minister and thanked him for creating residential facilities to the trainers and trainees of 4th IRB at Jangal Beri, Science Laboratory at GSSS and Ayurvedic Health Centre. M.C.Parmar, CMD, Ex-Servicemen Welfare Corporation, R.S.Mankotia, Chairman, Kangra Central Cooperative Bank, Vijay Behl, Vice President, District Hamirpur BJP, Anal Thakur, General Secretary, District BJP, Ajay Sharma, President, District Hamirpur YJMC, I.D.Bhandari, Director General of Police, Rajender Singh, Deputy Commissioner, Madhusudan Sharma, Superintendent of Police, Virender Tomar, Commandant, 4th IRB, Jangal Beri, Parvez Akhtar, Chief Engineer, IPH, A.N.Sharma, Chief Engineer, PWD, Pradeep Thakur, Conservator of Forests, Pawana, Pradhan, Gram Panchayat, Jangal Beri other senior officers and prominent people of the area were present among others on the occasion.