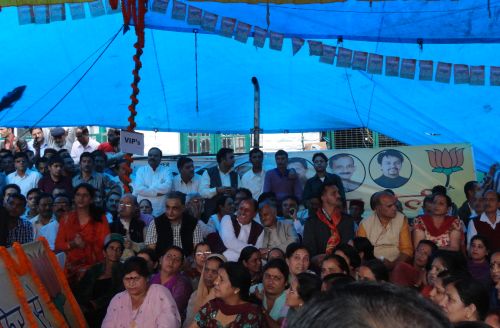 Independent Theog MLA Rakesh Verma, who's also an associate member of BJP Government, attended BJP's Thanks Giving Rally at Shimla. He along with his supporters reached to the rally ground and put forth his demand for BJP ticket in the forthcoming assembly election from Chopal constituency. Rakesh Verma had won thrice from Theog assembly segment. However, after delimitation, his home region Balson was merged with the Chopal assembly segment, thus forcing him to shift accordingly.
Balson region was always decisive in his political career and helped him to not only consolidate his supremacy in Theog segment but also defeat Congress stalwart Vidya Stokes in 1993 as BJP candidate, but he lost to her in 1997 with a slender margin. He came back as an independent candidate in 2003 and 2007 with the thumping majority and Balson region again played a pivotal role while supporting him with over eighty percent of votes.
After delimitation, he decided to shift to the new constituency and to return to his parent party, BJP. He is demanding ticket from the party as well. In this regard, a delegation of his supporters from Chopal constituency had already met with CM few days back and Prof Dhumal assured to respect their emotions.
Chopal segment is considered as a Congress strong hold. From the last two decade, BJP has lost its vote share to Congress or independent candidates. In the last assembly poll, BJP candidate Radha Raman Shastri has crossed 15000 votes count, but due to political fallout, now Shastri has left BJP and joined NCP. He even vacated Chopal segment and announced to fight election from Shimla (Urban) on NCP ticket. Rakesh Verma, who is known as dynamic and development pro leader among his supporters, is looking as a possible threat for the Congress leader in Chopal. However, Rakesh Verma is getting strong opposition from Chopal BJP leaders like Shashi Dutt Sharma, Shishu Chauhan, Uday Singh, Anil Kimta and Surender Chauhan (all BJP ticket seekers) are opposing party ticket for him. Many BJP workers are also raising their voice against Rakesh Verma and demanding ticket for old workers.