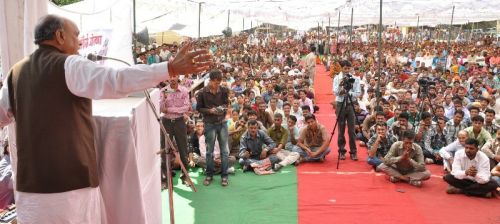 Sub-Divisional Office (Civil) would function from Dalhousie and Salooni for one fortnight each during a month to cater to the revenue and other administrative services requirements of the people of the area. These directions were passed by Prem Kumar Dhumal, Chief Minister, in the public meeting assembled on the 'Prashashan Janta Ke Dwar' programme, he addressed at Salooni, on the border of Chamba district, after he formally opened the office of Sub-Divisional Office (Civil) at Salooni and naming the same as Sub-Divisional Office (Civil) Salooni-Dalhousie, today.
Chief Minister said that the State Government was receiving representations from different quarters to shift the Sub-Division Office (Civil) from Dalhousie to Salooni, which had larger chunk of population of the sub-division and located in the interior area where people required administrative services more than other areas. He said that with the delimitation of assembly constituencies, Salooni area had been transferred from Rajnagar to Banikhet constituency, hence it was need of the hour to create necessary administrative infrastructure to facilitate the merged area population. He said that henceforth SDM would be functioning for one fortnight at Dalhousie and another at Salooni, which would fulfill long pending demand of the people of the area.
Prof. Dhumal said that the State Government would be considering the demand of people of Gram Panchayat, Sanooh, to divide the same into panchayats keeping in view the large population and geographical area. He said that with smaller panchayats it would be more convenient to implement various programmes for speedy development of the area more conveniently. He also announced upgradation of Government Primary School Dharbheran to Government Middle School on observance of the required codal formalities.
Chief Minister distributed school uniforms under Atal School Uniform Scheme amongst the students of 20 schools in the area and said that each students would be getting two pairs of school uniform free, during each academic session alongwith stitching charges of Rs. 100 each time, benefiting 9,27,205 students of government schools studying from standard first to matric all over the State. He said that the second phase of Mukhya Mantri Vidyarthi Swasthya Programme was also under implementation in all the government schools aimed at health check up of every student. He said that special care was being taken of the students suffering from some serious ailment as well as their dental hygiene.
Prof. Dhumal said that with a view to encourage participation of panchayati raj institutions in development at the grass root level, the State Government had launched 'Atal Adarsh Gram Panchayat Yojna' in the State to evaluate the achievements of gram panchayats and to award them with cash prize of Rs. 20 lakh for Best Panchayat at State Level, Rs. 10 lakh at Sub- Division Level, Rs. five lakh at District Level and Rs. two lakh at Block Block Level, as additional developmental grant to give pace of momentum to development at panchayat level. He also detailed other schemes being implemented by the State Government for the benefit of common man.
Chief Minister said that the State Government was taking special care of tribal, difficult and remote areas by paying added attention towards their developmental requirements. He said that Salooni area would also get benefited with the opening of Sub-Division Office (Civil). He listened to the public grievances and redressed most of them on the spot under 'Prashashan Janta Ke Dwar' programme and directed authorities to dispose of remaining applications in a time bound manner to provide relief to the aggrieved.
Earlier Prof. Dhumal dedicated newly constructed building of Primary Health Centre (PHC) at Bhanjraru at a cost of Rs. 87 lakhs, Singhadhar-Sit-Dadari-Puniadi Water Supply Scheme, completed at a cost of Rs. 81.75 lakhs against the proposed estimate of Rs.90.37 lakhs. Later, he also visited the ancient shrine of Bhalei Mata to pay his obeisance.
Renu Chadha, local M.L.A. while welcoming the Chief Minister and other dignitaries thanked him for his visit to her home segment and funds provided for developmental activities during the last four years. She said that with the opening of Sub-Division Office (Civil) at Salooni a long pending demand of the area had been fulfilled.
Tulsi Ram, Speaker Vidhan Sabha, B.K. Chauhan, M.L.A., Joginder Verma, Chairman, State Building and other Constructions Works Labour Welfare Board, Sh. Ghanshyam Sharma, Vice-Chairman, State Employees and Pensioners Welfare Board and other dignitaries were present on the occasion.