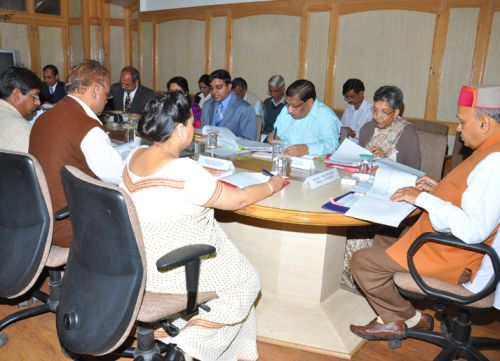 Two of the scheduled caste dominated villages in each of the 68 Assembly Segments would be developed as model villages under 'Mukhya Mantri Adarsh Gram Yojna' by spending Rs. 10 lakh in each village per annum to create quality infrastructure of basic amenities to the members of the community. Chief Minister announces it while addressing the State Level Meeting of Vigilance and Monitoring Committee constituted to review various issues relating to Scheduled Castes and Scheduled Tribes Act, 1989, here today.
Chief Minister said that a sum of Rs. 13.60 crore would be spent each year on provision of basic amenities in scheduled caste dominated villages in every assembly segment every year. He said that all of the concerned departments would work in close coordination to implement the scheme within the stipulated period of time. He said that additionally a sum of Rs. 816 crore was being spent on development of scheduled caste community under Scheduled Caste Sub-Plan by increasing the budgetary provisions from 11 percent to 25 percent during current financial year which would give boost to the developmental activities in such villages. He said that Tribal Sub-Plan was also under implementation which had the provision of earmarking 9 percent of the budgetary provisions for concentrated development of tribal areas. He said that the State Government was committed to protect interests of the scheduled castes. Scheduled tribes, other backward classes and minorities and had formulated focused plans for their speedy development.
Dhumal said that the State Government had also launched 'Mata Shabri Mahila Sashaktikaran Yojna' aimed at providing 75 scheduled caste women in each of the assembly segments of the State 50 percent subsidy on purchase of LPG gas connections thereby covering a total of 5100 families during current financial year. He said that all concerned departments were working in close coordination to protect interests of scheduled castes, scheduled tribes, OBCs and minorities and exercise zero tolerance towards atrocities towards them. He said that no case had been registered in seven of the districts in the State under Protection of Civil Rights during past three years He said that rate of conviction in such cases had been 50 percent. He directed the authorities to ensure that each and every case was pursued vigorously in the court of law and convictions ensured of the errants. He also directed them to pursue the cases pending for investigations at the police station level and exercise zero tolerance towards cases relating to atrocities against scheduled castes, scheduled tribe, OBCs and minorities by protecting their interests at all level.
Chief Minister said that a sum of Rs. 29,24,740 had been disbursed as compensation in 192 cases of atrocities against scheduled caste and scheduled tribe members under Scheduled Caste/Scheduled Tribe (Atrocities Prevention) Act, 1989 during past three years. He said that Rs. 7,28,982 had been disbursed as financial assistance to needy people of the community by HP State Level Services Authority during past three years. He said that the State Government had created two additional departments of Scheduled Castes, OBCs and Minorities besides Women and Child Welfare Departments with a view to carry focused development of such sections of the society. He underlined the need to sensitize the society and change mindset of the people about the social vice of unsociability and create awareness about treating every human being equally. He said that special training needed to be provided to officers responsible to look after the welfare of the communities.
Sarveen Chaudhary, Social Justice and Empowerment Minister, said that 56 castes had been listed under scheduled caste community which consisted of 24.72 percent of the total population of the State. She said that 14 percent increase in budgetary provisions had been made under Scheduled Caste Sub Plan by the State Government. She said that 59,000 scheduled caste families had been benefited under 20-Point Programme. She said that with a view to create mass awareness about the social vice of untouchabililty one day awareness camps were being organized in 200 schools and colleges besides disbursing a sum of Rs. 60 lakh to 240 eligible couples at the rate of Rs. 25,000 each for marrying scheduled caste spouse.
Earlier, Principal Secretary, Social Justice and Empowerment S.K. Dash welcomed the Chief Minister and detailed various activities of the Department. Dr. Abhishek Jain, Special Secretary conducted proceedings of the meeting.
Chairman, State Finance Commission Dile Ram, MLA G.R.Musafir, Cap. Atma Ram, Dr. Prem Singh, Dr. Ram Lal Markandey, Tejwant Negi, Kishori Lal Sagar, Dr. Rajiv Saijal, Balbir Chaudhary, Hira Lal, Nand Lal, Prakash Chaudhary, Yog Raj, Des Raj, Chief Secretary Rajwant Sandhu, Principal Secretary Home P.C. Dhiman, Principal Secretary Personnel Manisha Nanda, Engineer-in-Chief, HPPWD N.L. Sharma, other senior officers of Government of India and concerned departments of the State attended the meeting.