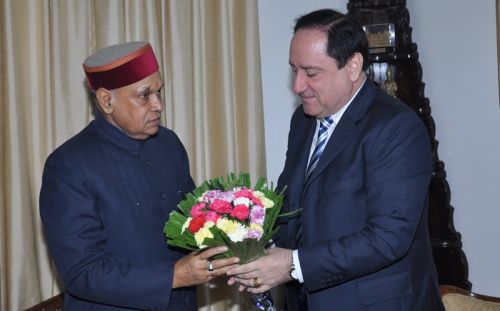 Ambassdor of Syrian Arab Republic in India Syria, Dr. Riad Kamel Abbas said that Syria will undertake cultural exchange programme with Himachal Pradesh in near future to further strengthen the bi-lateral ties with India. Dr. Riad said it while meeting with Prof. Prem Kumar Dhumal, Chief Minister, at his official residence.
Chief Minister welcomed the Syrian Ambassador to Himachal Pradesh and expressed gratitude towards the Syrian Arab Republic for his offer to sponsor Syrian Cultural Troupe for participation in the forthcoming world famous International Kullu Dussehra Festival wherein a number of foreign troupes had been participating every year. He said that Himachal Pradesh has emerged the first state in the world for having entered into an MOU with the World Bank for earning Carbon Credits. He apprised the visiting Ambassador of the spectacular achievements and the people friendly schemes launched by the State Government and also exchanged views on various other issues of common interest.
Dr. Abbas informed that Syrian people are fan of former Prime Minister Atal Behari Vajpayee and adore his governance. He lauded the State development and good governance. He also invited Prof. Dhumal to visit Syria in the near future.