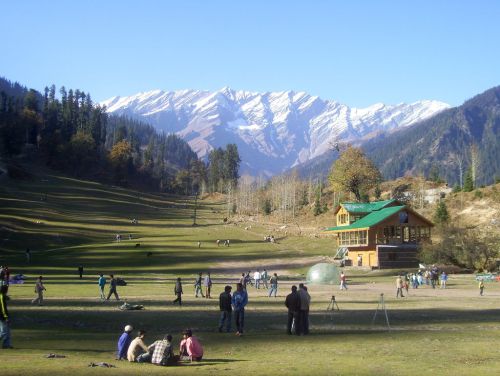 Snow or not, winter or summer, skiers can have fun gliding down slopes in Himachal Pradesh right through the year with the state government promoting grass skiing this summer at Solang near the popular resort town of Manali.
'As the snow melts from Solang, we will develop a 250-foot-long and 30-foot-wide grassy slope by planting a thick variety of grass. By July-end the slopes will be ready for grass skiing,' Randhir Singh Salhuria, director of the state-run Atal Bihari Vajpayee Institute of Mountaineering and Allied Sports in Manali. Solang is 13 km north of Manali.
Currently the Solang slopes are attracting the skiers across the globe due to plentiful snow. 'The slopes still have more than two feet of snow and the skiing can be possible till March-end,' Salhuria said.
The mountaineering institute, set up to promote adventure sports in 1961, procured equipment, including grass skis, worth Rs.25 lakh this year. The skis, each costing around Rs.30,000, were procured from Europe, Salhuria said. 'Himachal Pradesh will be the first state in the country to promote this unique sport. From this year, the slopes will have a magnetic pull on the skiers – both in winter and summer.'
Manali Tourism Officer Rajeshwar Goel said: 'Grass skiing will also be a major tourist attraction. It will, of course, allure a good number of adventure lovers.'
He said a large number of private tour operators, who are providing both skiing apparatus as well as instructors to the tourists, would benefit. Manali has over 40 travel agents who specialise in adventure tourism.
Ramandeep Bajwa, a skier from Chandigarh, said: 'It's (grass skiing) an interesting event. I would love to ski down the slopes again during the summer.'
The institute is planning more activities.
To promote rock climbing, it is constructing artificial walls in Solang and McLeodganj in Dharamsala. 'The rock climbing facility will be ready bythe end of this year,' Salhuria added.
The institute is conducting courses and events for skiers – both amateurs and professionals – in Solang. 'Earlier, we were holding events and courses when the slopes are wrapped in a thick blanket of white. Now, such activities would also be organised when the slopes are green,' he said.
Special activities are also being conducted for corporate executives, students and families in adventure sports – mountaineering, backpacking, skiing, soft adventure, trekking, rafting, kayaking and paragliding. Around 126,000 youths from India and abroad have been given training in various courses by the institute till date. The idyllic, pastoral setting of the Himalayan range in Himachal Pradesh has been drawing an increasing number of backpackers. With a population of just over six million, the state attracted 13 million tourists in 2010.