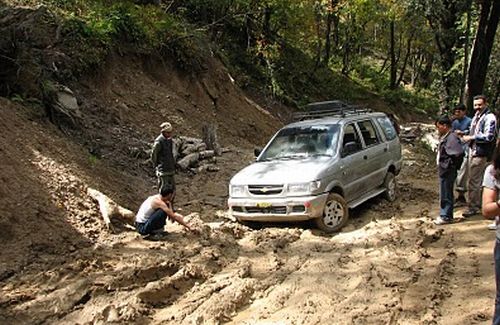 Poor road conditions with countless potholes, mud-slides and unrelenting dust all along – this is the present scenario of Theog-Kotkhai-Rohru road, which bifurcates from NH 22 at Theog, 32 kilometres from Shimla. The road has been such for the past 3 odd years now and has been responsible for surprisingly bad transportation of apple crop this past season, which left apple growers of the region with a bitter taste in the mouth.
The project of construction and widening of the Theog-Kotkhai-Rohru road, which is funded by the World Bank is reported to be about 2.5 years behind schedule, which is a reason the road condition is getting worse by the day. There are many factors that have been responsible for the delay though, but the real sufferer at the end of it all has been the common man who uses this road – the most important link of the area with the State capital.
In the event of fighting all odds – resulting from the Central government's lapse in issuing the Chinese engineers (responsible for the completion of the project) visas, the incessant rains this past monsoon and heavy traffic that hinders efficiency by about 50% – the State government finds itself out of place as the government is in no position to provide any pace to the process of construction. Explaining the State government's helplessness in providing any kind of help in the project, State's Horticulture & Technical Education Minister Narinder Bragta said: "This project is funded by World Bank they have imposed stringent terms & conditions, the state govt. has minimal or no role."
Explaining further, Bragta said:
"In spite of the all the odds stacked against us, we are making the best possible efforts to get the work done on time. We need all possible support & co-operation from the public. But we will make it."
Though, escalation in construction costs and the project being well behind schedule, there is a hope that sooner or later the road will be compete – but for that, the State government will have to take initiative and will push the UPA government in the Centre to speed up the process, so apple growers of the region can have a fruitful season this year.