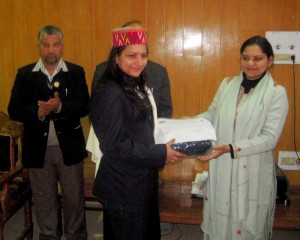 District Sports Council honoured various sportspersons today. Deputy Commissioner Nandita Gupta was the chief guest for the occasion. She said that organising such honour programmes is the best way to accolade the achievements of a sportsperson.
She honoured Meena Kumari a young shooter of the district, who won a bronze medal for the country at the Delhi commonwealth games. Veteran players of the district were also credited on the occasion. DC honoured Ex Capt. Anant Ram who had won many gold and silver medals at both national and international levels in gymnastic. Veteran wrestler Jagdish Kumar was also acclaimed for representing India at World Wrestling Championships which were held in Tehran, Pakistan, China and Russia.
Besides this the sports council also honoured Geeta Devi and Rajendra Kumar who participated in Special Olympics and won two gold medals (in Ireland) and a bronze medal (in USA) respectively.
A.D.M. Darshan Kalia and District Sports Officer Arun Sharma were also present on the occassion.