Himachal Pradesh CM Directs Officials to Expedite Uhl-III Hydro Power Project and Promote Green Energy Initiatives
Shimla: Himachal Pradesh Chief Minister Thakur Sukhvinder Singh Sukhu has set ambitious targets for green energy projects in the state. During a meeting of the Energy Department, he directed officials to expedite the completion of the 100 MW Uhl-III hydropower project and replace its damaged penstock within eight months.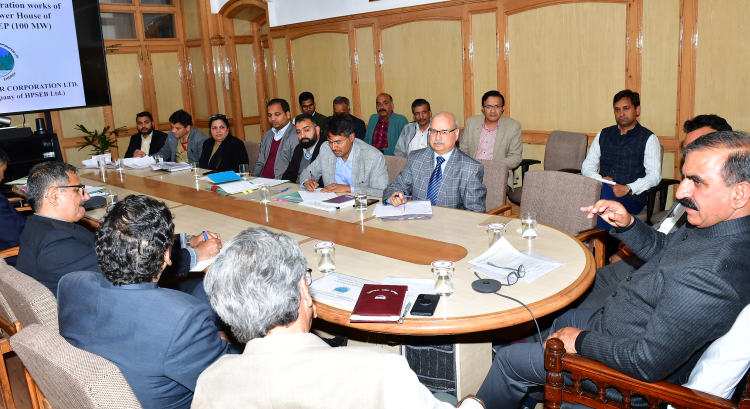 The Chief Minister expressed his disappointment at the delay in the commissioning of the Uhl-III hydropower project and urged officials to work tirelessly to ensure its completion by May 2024. He assured the state government's full cooperation and stated that he would personally review the progress of the project on 15th June 2023.
Chief Minister Sukhu also announced various initiatives to promote green energy in the state. He instructed officials to develop a blueprint for providing 40% financial assistance to prospective entrepreneurs from the state for setting up solar power projects ranging from 100 KW to 2 MW in capacity. He further emphasized the need for handholding in financing their projects from banks.
In addition, the Chief Minister reviewed the progress of setting up six green corridors in the state for promoting electric mobility. He directed officials to complete the tender process for all green corridors by October 2023 and establish charging station infrastructure along approximately 1600 kilometers of these corridors, including cities within their ambit. The state government aims to make Himachal Pradesh a Green Energy State by March 2026.
To promote the adoption of electric vehicles, Chief Minister Sukhu announced a 50% subsidy for the purchase of e-buses, e-trucks, e-taxies, and e-goods carriers. He also emphasized the need for adequate infrastructure for charging e-vehicles and directed officials to empower Himurja, the state's nodal agency for renewable energy, to develop charging stations along the six green corridors.
Furthermore, the Chief Minister instructed officials to expedite the completion of the 200 MW solar projects by December 2023 and identify suitable land for establishing solar power projects in the Lahaul-Spiti district. The meeting was attended by various officials, including Education Minister Rohit Thakur, Rural Development and Panchayati Raj Minister Anirudh Singh, and other senior officers.
The Chief Minister's directives highlight the state government's commitment to harnessing renewable energy sources and promoting sustainable development in Himachal Pradesh. With ambitious targets for green energy projects, the state is poised to make significant progress towards a clean and green future.