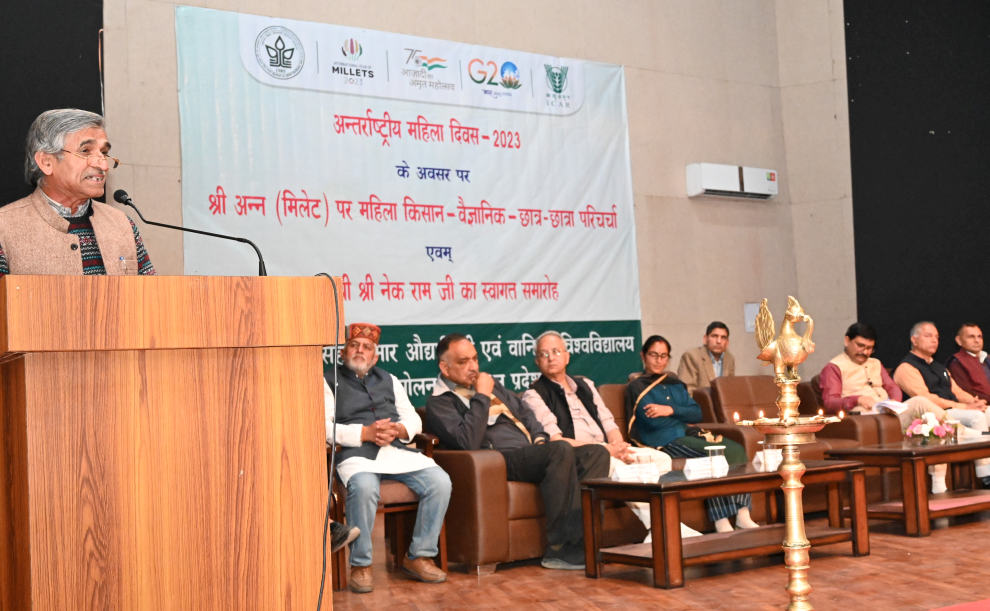 Nauni/Solan: Padma Shri and Millet man of Himachal Nek Ram Sharma urged students and women to play a leading role in bringing millets back to the food plates. He was speaking at the Women's Day celebrations and Women Farmer-Scientist and Student interaction on Shri Ann at the Dr YS Parmar University of Horticulture and Forestry, Nauni.
The Padma Shri awardee was of the view that the consumption of unhealthy food and chemical-based farming has had a big impact on human health and women have faced the biggest brunt. He said
"As it is the women who play the leading role in keeping their families healthy through managing their diets, therefore it was important they are sensitized about millet and its several health benefits."
Elaborating on the health benefits of Shri Ann, as millets are referred to, Nek Ram said that the Indian saints and village folk were aware of these superfoods and therefore they grew and consumed up to 18 types of cereals throughout the year.
Earlier, Radha Devi, Chairperson of Himachal's first all-women natural farming-based Farmer Producer Company (FPC) shared her story and journey of establishing an all-women FPC.
Vice Chancellor Prof Rajeshwar Singh Chandel said that the university recognizes the major role played by women in different fields, especially agriculture.