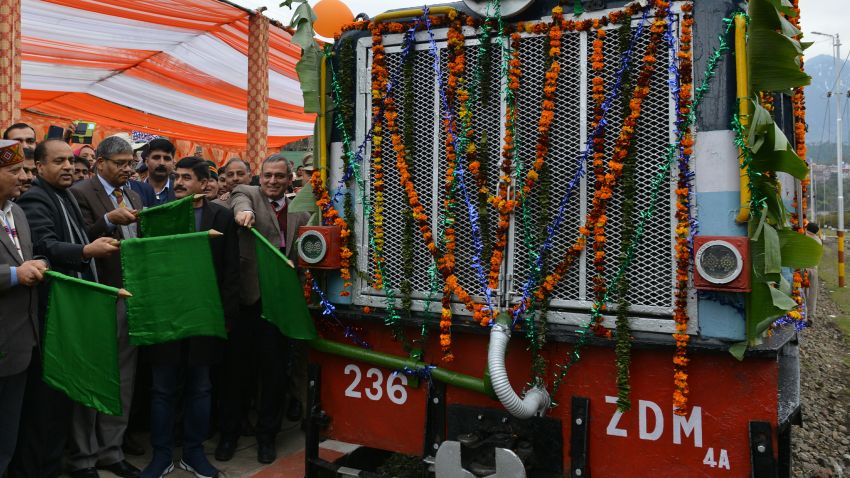 Baijnath: Chief Minister Jai Ram Thakur today flagged off new express train No. 52476 between Baijnath Paprola to Pathankot from railway station Baijnath-Paporla in Kangra district.
The Chief Minister, while addressing the gathering, said that this express service will not only help faster transportation to the local public but also encourage tourists to visit this region. He said that now the express train will cover the distance between Baijnath Paprola and Pathankot in 5 hours 5 minutes which otherwise took nearly 7.15 hours to cover this distance.
He said that this would make the travelling by train more attractive and timesaving.
Jai Ram Thakur said that this railway track came into existence in 1929 and it was after about 90 years that the time between Pathankot and Baijnath has been reduced by about two and a half hour. He said that efforts would be made to ply big train on this track and the matter regarding upgradation of the track would be taken before the Union Railways Ministry.
Chief Minister said that Firozpur Railway Division has made four coach express train which includes one first class chair car, two general service coaches and one general cum guard van. He said that this train will have stoppage at Palampur, Nagrota, Kangra and Jawalamukhi.
Jai Ram Thakur said that all the major stations have been provided Wifi facility to facilitate the commuters. The consultancy work for providing heritage look to Kangra station has been awarded which will be completed by 10 March, 2019. He said that steam run between Palampur-Baijnath for children has been done.
He said that Railways would also execute various other works to give facelift to the heritage gallery at Palampur, display of heritage items at major stations, use of heritage light poles, clocks, benches etc. at stations to attract more and more tourists and general public to use railway for their journey. He said that website of Kangra valley railway will also be launched very soon for making easy access to the passengers.
Divisional Railways Manager Vivek Kumar said the express train would give a new boost to the tourism development in the region. He said that all the trains plying on this section has been refurbished so that the tourist could enjoy the scenic beauty of the area. He said that Heritage gallery has been constructed at Palampur Station. He said that Steam Heritage Train was also plying between Palampur and Baijnath for attraction of the tourists.