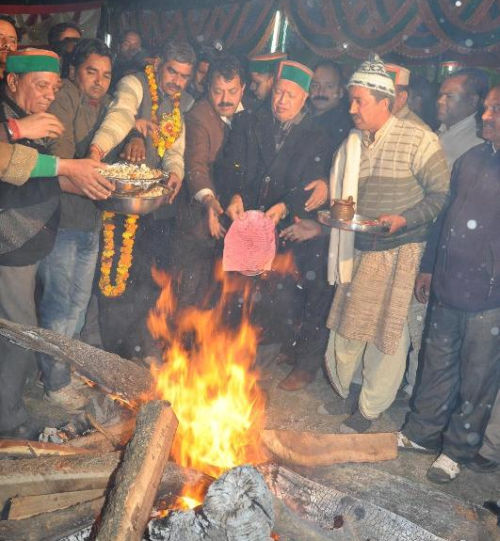 Chief Minister Virbhadra Singh participated in 'Lohri Festival' organised by 'Vikas Avum Chetna Manch' in Jawalamukhi in Kangra district last evening. Speaking on the occasion, Virbhadra Singh said that the 'Manch' was organising 'Lohri Festival' for the last many years with great fanfare and traditional fervour. He congratulated the organisers and artists for making the event a grand success.
Chief Minister said that our country was the land of fairs and festivals which were the rich repository of our diverse cultural heritage. He said that unity in diversity was the main strength and uniqueness of our country and it was our duty to maintain this rich tradition. He said that Himachal Pradesh was universally known for its diverse culture and rich heritage. He said that organising such events help in conservation of our rich tradition and culture. The State Government would provide all possible assistance to make such events a success, he added.
Sanjay Rattan, local MLA and Founder Chairman 'Vikas Avum Chetna Manch' while welcoming the Chief Minister thanked him for encouraging their endeavour. He thanked the Chief Minister for special benevolence and love he had been showering on people of Jawalamukhi constituency.
Jagjivan Pal and Yadvinder Goma MLAs, Nikhil Rajour and Surinder Kaku, former MLAs, Brig. Rajinder Singh Rana, Congress leader and Jagdish Siphiya were present on the occasion among others.
Earlier, Chief Minister also participated in the Lohri festival organized at Garli in Kangra district.