Shimla: Delivering justice in a heart wrenching murder case of four years old Yug, District and Sessions Judge Virender Singh has pronounced death penalty on all three convicts – Chander Sharma, Tajender and Vikrant.
All three were held guilty on August 6 under Sections 302 (murder), 201 (disappearance of evidence/false information), 347 (wrongful confinement to extort property) and 364 (kidnapping for ransom) of the IPC.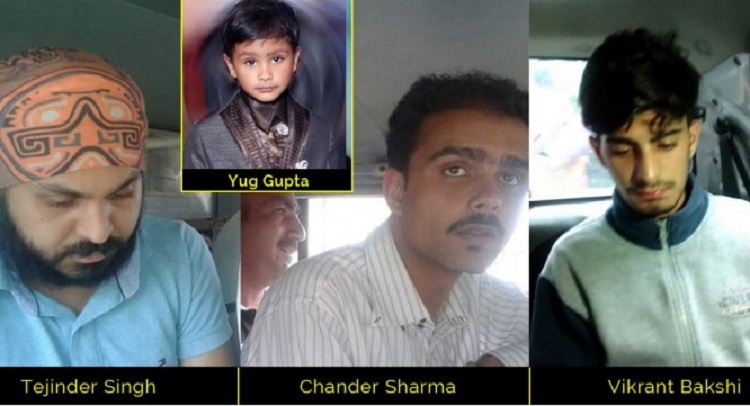 Four years old Yug Gupta, son of a local businessman, was kidnapped on June 14, 2014, by his neighbour Chander from the Ram Bazaar area and was murdered in the Kelston area of Shimla city and dumped in a water tank, skeleton was found two years later on August 22, 2016.
As per confession Chander had lured him by offering a chocolate and took him to a godown situated just above the shop of Yug's father. Later, he was bundled in a cardboard box and was taken to Chander's rented house at Ramchandra Chowk in Tejinder's vehicle.

After Yug disappearance, a case of abduction was registered on June 16, 2014. However, after cops failed to trace the killers, the case was transferred to the CID in August 2014.
At one time case was seems closed without any breakthrough, but after arrest of Vikrant in a theft case Yug murder case turned to its logical end. Police found video of child pleading for help from his father in Vikrant mobile and that led to the arrest of all three convicts. The CID arrested the three accused on August 22, 2016.
Following the arrest investigations revealed that Chander, who was known to Yug's father Vinod Gupta, hatched a plan to kidnap the child for ransom. The accused demanded Rs 3.6 crore from his father.
A video grab from Vikrant's mobile phone, in which he was seen pleading for his life, led to breakthrough in the case.
Innocent four years old kid was tortured, starved and forced to consume liquor before he was thrown into the tank. Diatomic report had revealed that Yug was dumped in water alive.