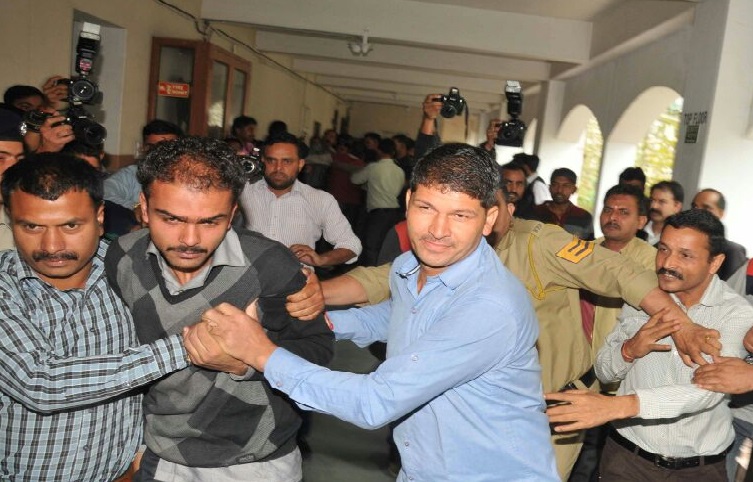 In Yug Murder Case, the Shimla Police has registered a case against the officials of Shimla Municipal Corporation (SMC) for negligence besides the provisions of Water (Prevention & Control of Pollution) Act 1974, on the complaint of state CID team that had recovered the body on August 22.
During Investigation accused Chandra Sharma (26), Tejinder Pal (29) & Vikrant Bakshi (22) revealed that after kidnapping the four year old boy Yug, they thrown child body in water storage tank of Municipal Corporation at Keleston in Bharari on 21-6-2014.
On the basis of disclosure of accused, search of Municipal Corporation Drinking water storage tank situated at Keleston Bharari was conducted in the presence of witness and by the SFSL and CID Special Investigation Team and I & PH staff. During the inspection of the water tank and its surrounding, pieces of skull were found outside the tank on ground under the ladder which connect the water tank from the road side and concrete slab tied with plastic rope and straps with red/brown colored stains recovered inside the water tank along with few pieces of Bones.
Keleston water tank serving a large chunk of population in the city. Ironically for the last two years, Shimla MC – claiming of cleaning the water tank four times in year 2015-16 – failed to spot the body.
In his report DSP (CID) Bhopinder Bragta said that Yug's father, Vinod Gupta, had reported at Sadar Police station that his son was missing from Dwarkagarh building at Ram Bazaar Shimla.
On his complaint, an FIR has been registered at Sadar police station against MC officials at PS Sadar on 26 August under section 269, 270, 271, 217, 218, 34 IPC & Section 42, 43 The Water (Prevention & Control of Pollution) Act 1974.