Ultraviolet radiation technology to be tried in Ashwani Khud water source to kill the germs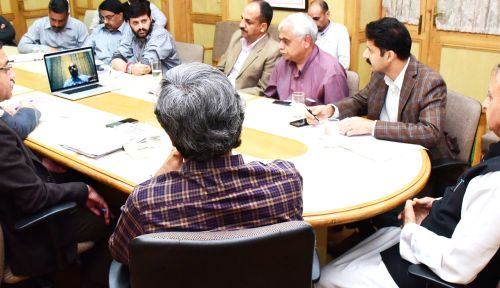 Shimla city has faced worst water crises. Residents of famous tourist destination were being supplied water by the MC after nine to ten days. Following the protest from the locals, the state government intervene and now with good rain in the region is normalizing the water supply of the city.
The state chief minister conducted regular meeting with top officers and ensured sufficient water supply to the residents. Chief Minister Jai Ram Thakur today also held a meeting with senior officers of various departments to review the measures being undertaken for improvement in water supply for Shimla town from various water sources.
The state government, not to repeat such condition in the future, has decided to take some effective measures. The government has decided to construct check dams upstream of Gumma and Giri water sources, main source of water of the city. The state government also decided to construct nine additional storage tanks in Shimla town that would help in storing an extra 17 MLD water.
The Chief Minister has directed the departments to speed up/initiate work on the short and long term plans so that most of the works could be completed within a year and there should be no water crisis in Shimla during the next summer season. He also asked to fast track the work on medium-term plans being executed for enhancing water capacity in different schemes.
He directed the officers of the Municipal Corporation Shimla to take immediate steps for checking leakage of water and completing the work on changing the main water supply line from Craignano to Dhalli (7 KMs). He also said that water distribution system should be improved and directed to take up this work in Sanjauli, Engine Ghar and Totu Wards at the earliest.
Jai Ram Thakur said that the work on Chaba project should be completed within a year which shall provide 10 to 15 MLD of extra water to the Gumma water source.
He stressed that all the line departments should work in close coordination so that unwanted delays could be avoided and the targets could be achieved within the stipulated time period.
Secretary, IPH Devesh Kumar said that ultraviolet radiation technology would be tried in Ashwani Khud water source to kill the germs and the process has been started to construct check dams on all the sources of water lifting. He also briefed about the visit of Central Water Commission team to Shimla and suggestions given by it.