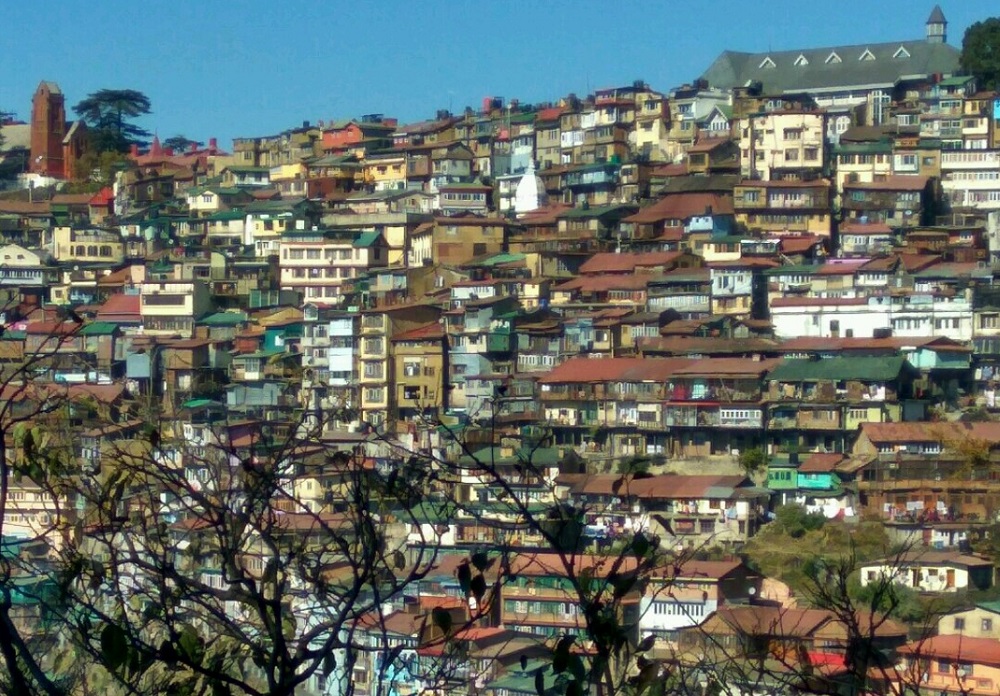 To people of Shimla, perils of modernization were lesser known. Strange and cursing it appeared the description of India's most modern cities a couple of decades ago. Green cover taken over by concrete, intersected by metalled road sides of which are encroached by multistory shops and complexes while vehicles sprawled all over their roads. The night sky is shrouded from human view by too much artificial light. The air is poisons. The sound of nature is buried beneath mechanical noise of combustion engines that is further aggrieved by loud irritating honking while traffic moves like snail struggling everyday in traffic jams.
But now, Shimla city, too, has joined the league while chasing the ghost known as "modernization and development". There is no way out but to keep constructing more infrastructures to accommodate needs of modern culture. To demise of all, description of Shimla is way far uglier now. The imperial summer capital and now one of the most celebrated hill stations on International map is heading towards a dread.
Failure to Control Unplanned, Unauthorized Construction
In year 2016, the Government of Himachal Pradesh has again introduced retention policy to legalize illegally constructed buildings, claiming it to be one time relaxation. Earlier, too, governments have done that to woo voters and please wealthy or politically influential people. Nothing could be more ridiculous on the name of such relaxation. Haphazard construction has led to ribbon development. The current number of unauthorized structures is over 20,000 irrespective of sinking zones or warning of possible devastation due earthquakes as the city comes under Seismic Zone IV. Geologists and researchers have warned that an earthquake (7-8 on rector scale) can reduce the localities like Dhalli, Sanjauli, Lower Bazaar, Dhalli etc into rubble owing to over-construction.
As a disadvantage of being a mountainous region, if a high-magnitude quake shakes Shimla during night time, over 2 lakh will be buried alive.
If compared to year 2000, the data in 2009 (as per a research study) shows expansion of construction activity in surrounding suburbs of the city like Totu, Summerhill, Kelston, Chakkar, Dhalli, Sanjauli, Kasumpti, Vikasnagar, New Shimla etc.
Despite the fact that being a mountainous region with highly fragile ecology, large number of both residential and commercial structures are constructed illegally, ignoring all parameters set by the Municipal Corporation and the Town and Country Planning Department. Not only the mentioned areas are too much congested now, but are also deficient in proper linkage to sewage system. The condition is so poor that a large number of localities in 'specially developed areas' are not accessible by ambulances during emergencies.
The situation further aggrieved as recently HP Assembly passed Himachal Pradesh Town and Country Planning (Amendment Bill) 2016 to regularize irregular structures including residential and commercial ones within limits of Municipal Corporation and rural regions on "as is where is" basis. The government diluted existing norms in exchange for a nominal fee to deliver regularization to buildings raised without any sanctioned plan.
As per the SMC, after the bill was passed, application s for regularization has reached about staggering 5,000.
The government has even ignored the safety concerns associated with such structures. Illegal structures constructed without proper consultation can turn into grave of people residing in them e.g. the collapse of five-five story building in Hatkoti in which many lives were lost. Later, it was found that the entire structure was illegally constructed.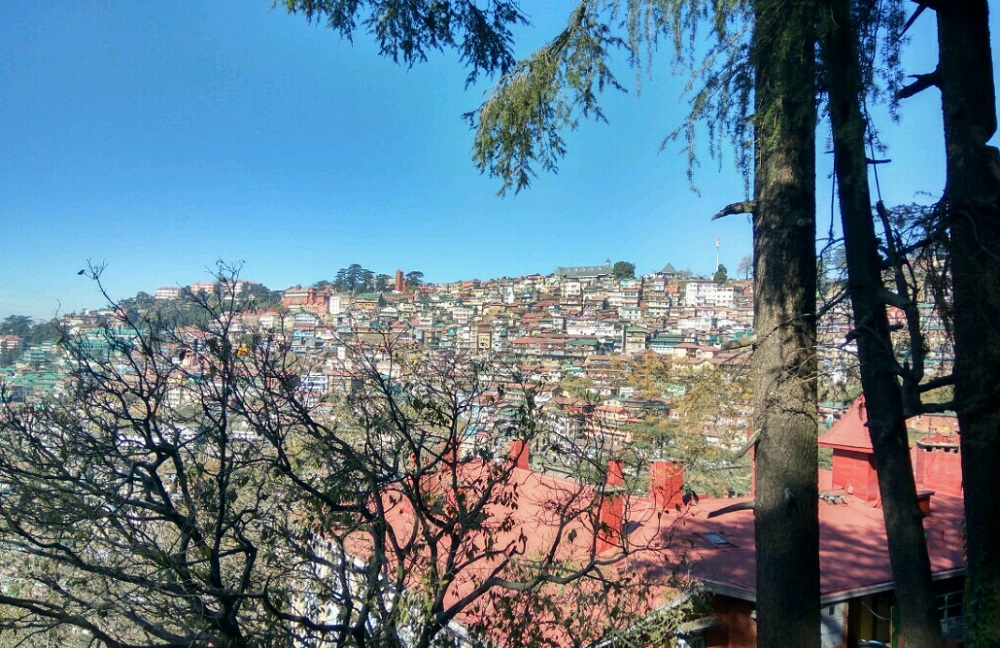 Hub of Government Offices with Little or No Parking Space
Once, a serene city that a decade ago hardly knew long traffic jams has now turned into a traffic-trap. In public transport or private vehicles, it can take hours to cover a few kilometers, which earlier took only 10-20 minutes e.g. to reach Old ISBT, Shimla from Totu, Boileauganj, Summerhill, Sanjuali, Lakkar Bazaar, Kasumpti, BCS, Totu etc.
The best example of poor town planning is the SDA Complex in Kasumpti that houses headquarters of various departments including the Town and Country Planning. Currently, SDA complex is visited by as many as 15,000 people every day other than thousands of employees. The parking space remains as much as it was back then when the complex was constructed a couple of decades ago but the number of government and privately owned vehicles has gone sky high. The complex remains in chaos as the administration is helpless to provide required parking space.
The flow of traffic on narrow roads at the SDA complex is daily choked due to improperly parked vehicles including official ones. Moreover, the Kasumpti bazaar, too, has become crowded with no scope of widening of the road. Similar is the situation at bus stops at Kasumpti, Panthaghati, and Vikasnagar.
Irregularities in Water Supply System and Sewage Treatment
Shimla city witnessed deadliest jaundice outbreak that erupted started in September 2015, landed about 15,000 victims in hospitals and claimed 15-20 lives (official data)until March 2016. The cause was contamination of sewage with drinking water supply from Ashwani Khad as the treatment plant was in tatters and insufficient to take increasing load of sewage from the city. The Sewerage system was designed by the British for a population of about 18,000. But the sewerage linkage did not develop over the time with increasing population. Currently, old system is taking load of over 2 lakh people in the city.
During 2015 and 2016, Shimla city has experienced acute water shortage. People are still suffering from water rationing as the water supply schemes are either pending or poorly implemented. Enormous amount of water is wasted due to leakage in supply pipes. Further, as far as the safety of the drinking water is concerned, the recovery of remains of Yug Gupta skeleton from Keleston-based IPH water storage tank exposed the lack of any safety measure.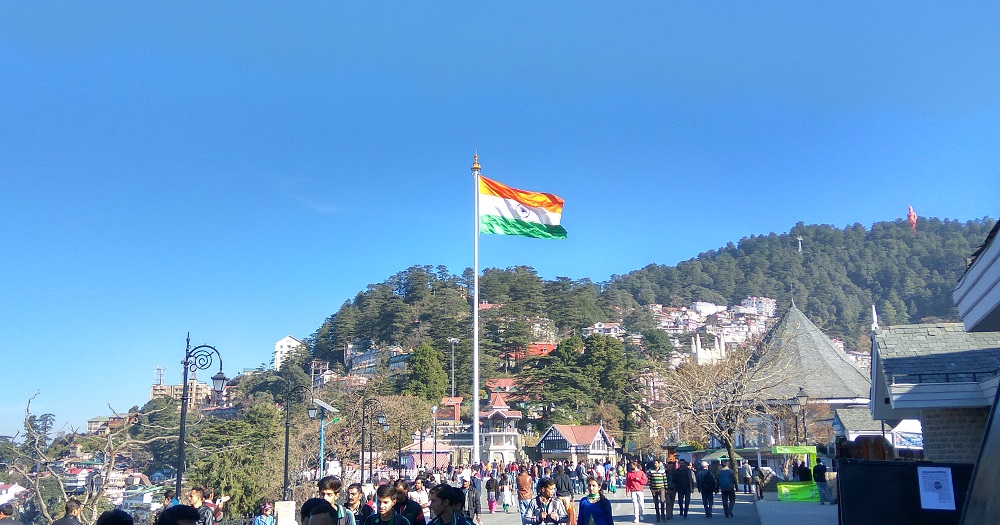 Green Cover Depletion and Landscape Degradation
Once densely covered with deodar, pine, Oak, Kail, Rai and Rhododendron, Shimla was known as forest city. However, preceding concrete due to haphazard and reregulated construction is gradually depleting forest cover over Shimla city. Illegal tree felling and corruption within Forest Department and local administration is in consistent decaying state. Although, the National Green Tribunal has intervened, but still thousands trees are axed both legally and illegally.

Other Troubles Caused by Modernization
The so called modernization has led to development of more troubles including rise in air and noise pollution. Vehicular pollution is running out of control and has caused change in climatic condition in urban regions of Shimla. The minimum temperature has already increased and snowfall has become a formality.
Lack of Professional Town Planners and Modern Techniques
All the data and facts mentioned suggest that the State is deficient in terms of modern technical expertise like GIS and remote sensing. The number of dilapidated houses on unsustainable slopes is growing. The planning lacks both discipline and accuracy of scientific methods. Currently used data for planning is based on age-old revenue a record that doesn't fit in present scenario. Ignorant people are not leaving any stone unturned to dig their own graves – an irony.
Queen of hills is turning into ugly as well as deadly landscape taken over by concrete on the name of modernization. It is high time that government stop mocking at rules and regulations.