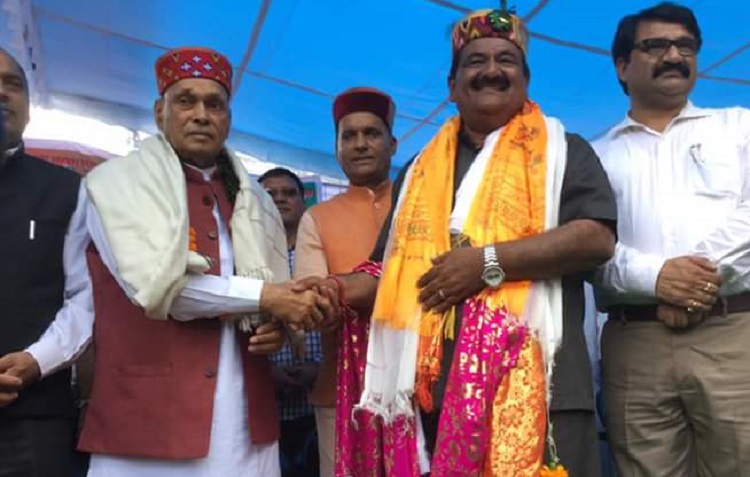 Himachal Lokhit Party (HLP) on Sunday merged with BJP in presence of hundreds of workers of both the parties at Dussehra ground of Kullu.
BJP gave warm welcome to Maheshwar Singh and HLP workers. Opposition leader Prem Kumar Dhumal, Jai Ram Thakur, Gulab Singh Thakur, Ram Swaroop Sharma and many other BJP leaders were present in the programme.
A section of HLP, which was opposing the merger of the party with BJP, terming the home coming of Maheshwar Singh to BJP nothing except politics of convenience.
Senior politician Mohinder Nath Sofat, in his outburst at social media site, reminded former BJP state president and founder of HLP that Maheshwar Singh had launched a tirade against BJP government ahead of 2012 assembly poll with the allegations of then Chief Minister Prem Kumar Dhumal of patronizing corruption in the state and even submitted a charge sheet of 125 charges against that BJP government to national president of BJP.
Sofat, who was opposing the merger of party with BJP, unfolded that Singh, when he founded HLP used to say "we are floating party to make sure that BJP shouldn't repeat" and now he's saying that he's merging party so that congress government should not repeat.
MN Sofat accused Maheshwar Singh for befooling public for his selfish political motives only. He also blamed for using his fellow leaders. He further added that they all will give befitting reply to Singh at right time.