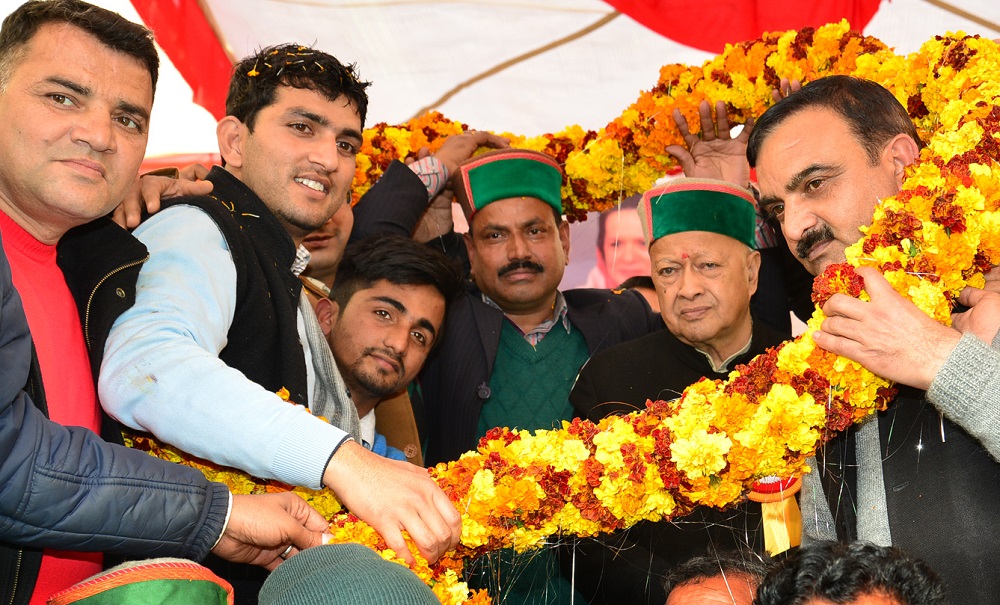 Pragpur: Chief Minister Virbhadra Singh today announced to open Sub-Tehsil office at Pragpur and Fire Sub-Station at Dadasiba in Jaswan-Pragpur Assembly constituency of district Kangra.
He laid foundation stone of augmentation and extension of lift water supply scheme Jambal Behi and Bari Sanda Phase-I and II to cost Rs. 4.15 crore. He dedicated newly up-graded CHC at Kotla and laid foundation stones of bridge over Kotla Khad to be constructed at a cost of Rs. 1.35 crore and another bridge over Gummi Khad to be constructed at cost Rs.1.56 crore.
The Chief Minister also laid foundation stone of building of Govt. Degree College Jandour.
Earlier, in the morning the Chief Minister laid foundation stone of multi storey/parking at Jawalamukhi to be constructed at an cost of rupees five crore and inaugurated Science Block of GSSS Jawalamukhi and also performed Bhoomi Pujan of Shivaji-Katyalu road to be constructed at a cost of Rs. 1.90 crore.
While addressing a gathering at Dadasiba, Virbhadra Singh advised fellow politicians to work with dedication and fully committed to the profession adopted. He said
"There were few who come and go and even finds no mention in history and there were other few who create histories and were remembered throughout for the service they render. Dr. Y.S. Parmar, Late Jawaharlal Nehru and Smt. Indira Gandhi were in the list of such persons, he said, who did a lot for Himachal Pradesh"
Earlier, Vice-Chairman, Employees Welfare Board Surinder Mankotia welcomed and honoured the Chief Minister on the occasion and urged for fulfilling the demands of the remote constituency. He said that he was indebted to the Chief Minister for opening three colleges at Jandour, Dadasiba and Rakkar.