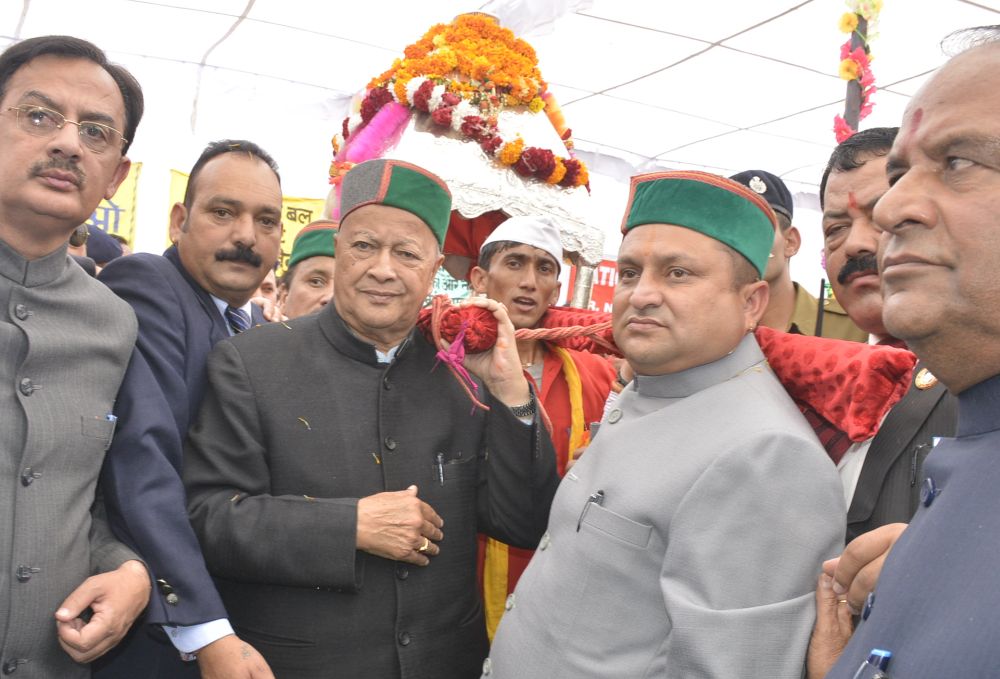 Renuka Ji: Week long International Renuka fair begins today with religious fervor. Chief Minister Virbhadra Singh received the Palanquin of Lord Parshurama at Dadahu and participated in the Shoba Yatra. He also visited the temples of Lord Parshuram and Goddess Renuka and paid obeisance besides performing pooja.
The Chief Minister said the State known for its rich traditional customs and culture. He asked every citizen to preserve and maintain age old temple of deities. He said
"Fairs and festival are inseparable part of the lives of the people of the State and we are guided by our deities, who always protect us from the evils" he said,
The Chief Minister inaugurated the exhibitions set up on the occasion by different government departments and NGO's showcasing the development activities of the district as well as the State. The picture exhibition on the lifetimes of Virbhadra Singh set up by department of Information and Public Relations drew huge crowd.
Earlier, the Chief Minister laid the foundation stones of Dr. Prem Singh Memorial stadium at Maina-Bag near Sangrah to cost Rs 77. 51 lakh and 250 meter athletic track which would have a basketball and badminton court.
Chief Parliamentary Secretary, Vinay Kumar, MLA, Shri Kirnesh Jung, Deputy Chairman, Planning Board, Gangu Ram Musafir, Chairman, Employment Generation and Resource Mobilisation, Harshvardhan Chauhan, Chairman HIMFED, Ajay Bahadur, Deputy commissioner, B.C. Badaliya, Superintendent of Police, Soumya Sambasivan were also present on the occasion amongst others.