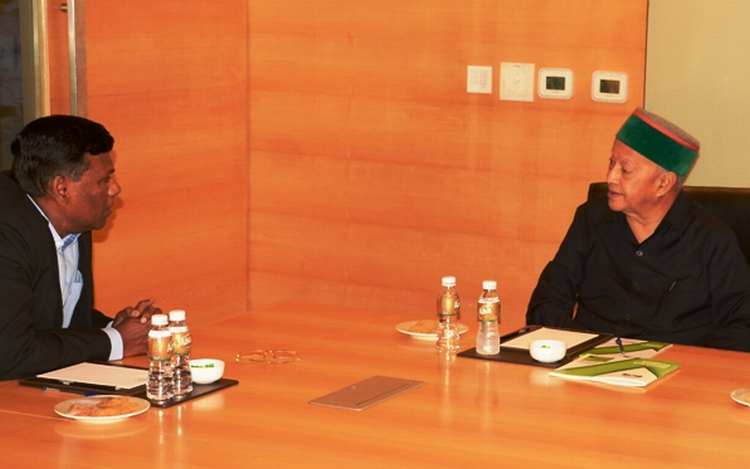 Adani Group has intended to extend by expanding and setting CA store facility in Rampur with storage capacity of 3000 tonne.
In a meeting with Chief Minister Virbhadra Singh at Ahmedabad in Gujarat, Ramanujan Vice President, Adani Wilmar Group, requested the Government for around 10 acres of land in Kullu for another CA Store facility in Kullu with storage capacity of 15000 tonne. Adani had already invested Rs 200 crore in Himachal.
Rasna Private Ltd., a forerunner in Soft Drinks, India has intended to set up a Mega Food Park in the State with facility of food processors in the state.
Vadilal, Ice Cream manufacturing group, proposed processing Unit for agro products in lower belts of Himachal and GMS Shipping Company has proposed to invest Rs 250 crore or more in Himachal in Food park projects.
The Torrent group, exporting pharmaceuticals to Brazil, America and other countries from Baddi in Himachal Pradesh, expressed willingness for investing Rs.200 crore in bulk drugs and sought permission of the Government. They have been already invested Rs.325 crore in the State. The Torrent also expressed their willingness for setting up Hydel Projects of 500 Mega Watt or 1000 MW as such, for which the Chief Minister asked to submit the proposal till 15th December, 2014.
For exploring the possibility in producing Geo-thermal energy in Himachal, the Varya Group intends to invest in Geo-thermal energy.
Concord Bio-tech intends to invest Rs 50 crore or so in Bio-tech sector, besides Shah Alloys and Hitachi Hirel Pvt. Limited showed keen interest in investing in the State for which the Chief Minister invited proposals.