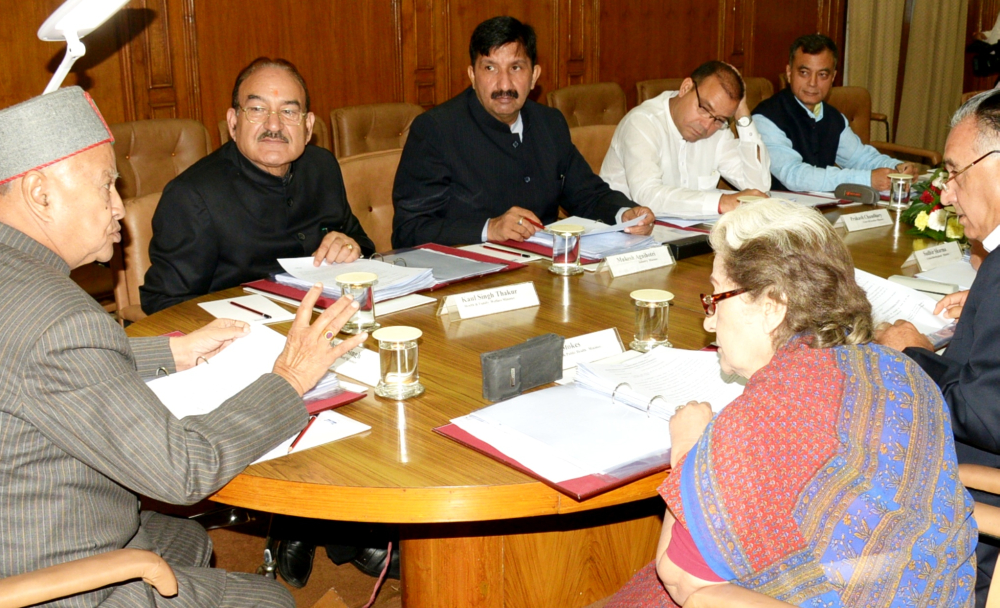 The Himachal Pradesh Cabinet has decided to withdraw the H.P. Town and Country Planning (Amendment) Ordinance, 2014, and deliberated upon bringing a revised ordinance instead.
In the Cabinet meeting, chaired by Chief Minister Virbhadra Singh, has approved the updated H.P. Town and Country Planning Rules, 1978 so as to make these compatible to present requirements and functional convenience.
Earlier, in August the State Government had brought an ordinance to pave the way to regularise over 20,000 unauthorised structures in the State, but over its nature and term and condition it was receiving continuous backlash from Opposition and Common public.
Though to address the grievances of common public, the State Government invited the suggestions and objections from the general public about the H.P. Town and Country Planning (Amendment) Ordinance, 2014, but now based on that it has decided to withdraw the Amendment Ordinance.
In its another decision, the Cabinet gave its approval to open Primary Health Centre at Basadhar in Tehsil Theog and also at Naura in Chopal in Shimla district besides opening of Police Posts at Chadhiar and Multhan under Police Station Baijnath and a Police Post at Baroh under Police Station Nagrota-Bagwan in Kangra district. It also approved a Police Post at Jalog (Tharu) under Police Station Sunni in Shimla district.
The Cabinet also gave its nod for establishing Government Engineering College at Kotla (Jeori) in Shimla district.
In a move to enhance the revenue of the Government and to give fillip to the Industries in the State, the Cabinet decided to enhance the rate of entry tax in case of goods purchased by all Government Department, Boards and Corporations, locally or from outside from existing three percent to five percent.
The Cabinet gave its approval declaring Dusshera Mela, Krishangarh (Kuthar) in district Solan as a district level fair.
The Cabinet approved to increase the share holding of the State Government in Satluj Jal Vidyut Nigam Ltd. (SJVNL) to 26 percent.
The Cabinet gave its approval for change of domain of Baner-II (6 MW) Hydro Electric Project in accordance with the policy and guidelines and would ensure enhancement in the capacity.
The Cabinet also decided to create four additional posts of Assistant Professors of Chemistry, Physics, Biology and Maths in Government Degree Beetan in Una district on contract basis. It also gave its approval to HP Forest Corporation to engage 100 No. of Un-skilled/semi-skilled from the open market on contract basis. Approval was accorded to create one post of Computer Programmer and 12 posts of Assistant Programmer in H.P. High Court on contract basis. The Cabinet also approved to fill up 12 posts of different categories in the Fisheries Department by way of direct recruitment on contract basis.
Approval was given by the Cabinet to open a new PWD Division at Medical College Tanda along with the staff required. It also decided to create National Highway Division at Chamba for NH-154-A.
The Cabinet decided to transfer the land on concessional lease basis to Food Corporation of India (FCI) for construction of Godowns so as to provide adequate food and nutritional security to the people of the State and for efficient food grain management.