To ensure equal distribution of water in Shimla town, city has been divided into three zones and water would be supplied in three zones after every three days.
In a review meeting it was informed that on 29th May, water would be supplied in two shifts in Kasumpati, Panthaghati, Chhota Shimla, Vikasnagar, Patyog, Kangna Dhar, New Shimla, Khalini and other peripheral areas of these regions. In Chhota Shimla, Vikasnagar and Khalini water would be supplied in evening and in Kasumpti, Panthaghati, Patyog, Kangna Dhar, New Shimla and other peripheral areas of these regions water would be given in the morning.
Similarly, schedule for providing water to other zones has also been fixed for providing assured water supply.
It was informed in the meeting that adequate number of tankers have been deployed to ensure atleast one tanker in each ward of Shimla Municipal Corporation. He said that the tankers would be pressed into service in those areas which were worst affected due to water scarcity.
Besides this, management of irrigation needs being fulfilled from Giri and Gumma Rivers have also been rationalized which might result in an increase to the tune of 2-3 MLDs by tomorrow.
Chief Minister Jai Ram Thakur said that water distribution should be regulated effectively and a foolproof mechanism should be evolved for equal distribution of water through tankers so that people do not face inconvenience for getting the water. He said that four control rooms have also been established in Municipal Corporation for smooth supply of water.
He also directed the officers to check water losses due to leakage in the pipes and also plug all water connections used for construction purposes. He also appealed to the consumers to use water judiciously. He said that strict action would be taken against the erring officers who will show laxity towards their duties.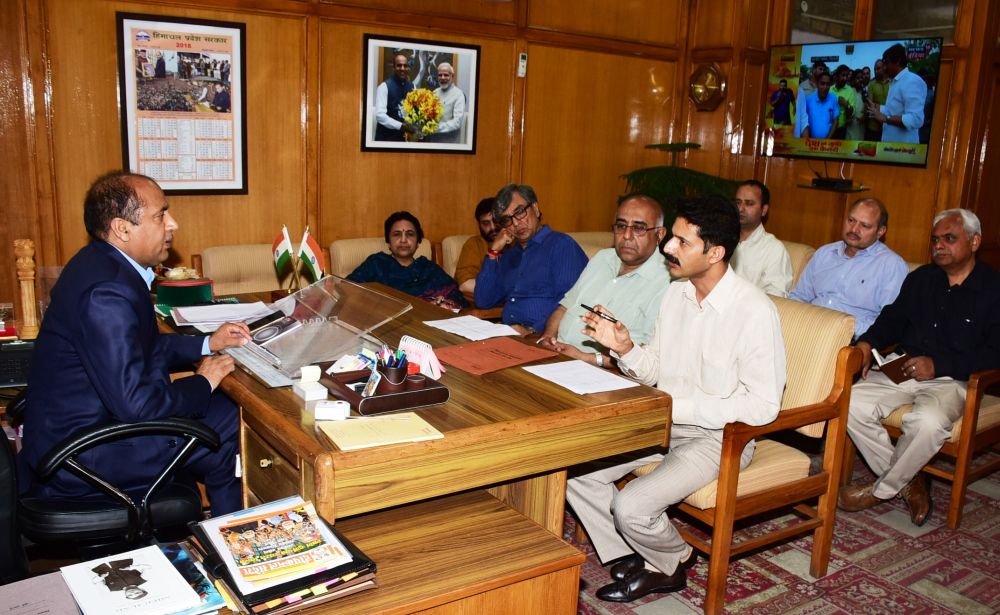 Chief Secretary Vineet Chawdhry, Additional Chief Secretary -cum- Principal Secretary to Chief Minister Dr. Shrikant Baldi, Additional Chief Secretary, PWD Manisha Nanda, Additional Chief Secretary, Urban Development Ram Subhag Singh, Secretary IPH Devesh Kumar, Deputy Commissioner, Shimla Amit Kashyap, Commissioner, Municipal Corporation Shimla Rohit Jamwal, Director Information & Public Relations Anupam Kashyap, Engineer in Chief IPH Suman Vikrant and other senior officers were also present in the meeting.