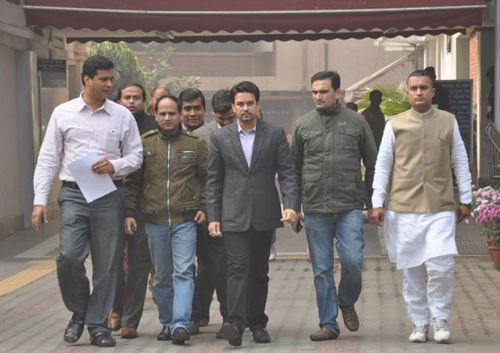 New Delhi: The BJP continue mounting pressure on Himachal Pradesh Chief Minister and after Arun Jaitley's letter to Prime Minister, BJP today asked the Election Commission of India (ECI) to cancel the membership of Himachal Pradesh Chief Minister Virbhadra Singh from the Himachal Legislative Assembly and his parliamentarian wife Pratibha Singh for concealing facts in their election affidavits.
Anurag Thakur, BJYM national president and Hamirpur MP, has written to the ECI and demanded action against HP Chief Minister and his MP wife for concealing important facts in their election affidavits.
Earlier, the Senior BJP leader Arun Jaitley had written to prime minister and accused Singh for taking bribe for favoring hydro power company, Venture Energy and Technology Private Limited. Yesterday, activists of BJYM, led by Anurag Thakur, also protested outside Rahul Gandhi's house.