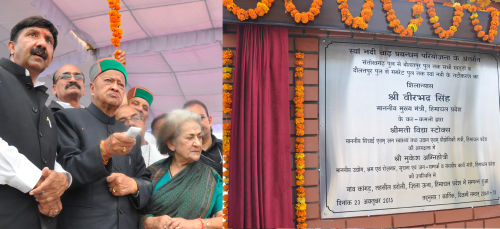 Una: Chief Minister Virbhadra Singh today performed the foundation stone laying ceremony of ambitious project of channelization of all streams of Swan River from Santokhgarh Bridge to Daulatpur Bridge and channelization of Swan River from Daulatpur bridge upto Gagret Bridge under Rs. 922.49 crore Swan River Flood Management Project at Kangad in Haroli constituency of Una district. Under the 4th phase of this project total 11 kilometers long area of Swan River from Daulatpur Bridge to Gagret Bridge will be channelized under the project besides channelization of all 73 tributaries of Swan from Daulatpur to Santokhgarh Bridge.
Later, addressing a mammoth gathering at Kangar, Virbhadra Singh congratulated the people of Una district on this historic day adding that this project was bound to bring sea change in their lives. With the channelization of Swan River and all its tributaries, the people would no more have to suffer the catastrophe of flooding Swan River and they would witness an era of prosperity and development with the production of food grains and vegetables along banks of river.
Chief Minister said giving utmost priority to this major project, the present State Government put sincere efforts with strong political willpower to get clearance for the project in a record nine months period from Government of India (GoI). The project would benefit a population of 2,35,834 of 165 village and 7163.40 hectare barren land would be reclaimed. In all 387.58 kilometers area would be channelized including 1200 kilometer watershed area.
Virbhadra Singh said that BJP was trying to take credit for this project but it was due to efforts of Congress Government that this ambitious project was implemented. The previous BJP Government inaugurated the half completed phase-2 of this project and laid the foundation stone of third phase without making budgetary provisions and sending detailed project report to the Government of India. The present State Government had given Rs. 100 crore as State share for the 4th while detailed project report would be made for third phase and State Government would provide its share for it.
He announced to open Mini Secretariat at Haroli to facilitate the people of the area to get various services under one roof. He also announced to open Superintending Engineer (IPH) office at Una which would also supervise the work on Swan river channelization project.
Irrigation and Public Health Minister Vidya Stokes said that it was a historic day for the people of Una district as the foundation stone was laid for the largest channelization project in the entire North India. She said that providing better irrigation and drinking water facility to the people of the State was priority of the Government. Almost 90 percent population of the State had been provided with tap water facility which was highest than any other State.
Stokes said that 499 irrigation schemes had been completed in the district covering 20,148 hectare land, whereas the work on 39 schemes at a cost of Rs. 78.64 crore was on progress which would facilitate 3568 hectare of agricultural land.
Industries Minister Mukesh Agnihotri while thanking the Chief Minister for laying foundation stone of this ambitious project said that it was due to sincere efforts of Congress Government under the able leadership of Chief Minister Virbhadra Singh that project got approved in a record time. He expressed gratitude towards the Chief Minister for according utmost priority for this project and taking the matter vigorously with the GoI. With the completion of this project, Swan River would no more remain as river of sorrows and it would ensure an era of prosperity to the lakhs of people who had been facing the curse of devastation of land due to heavy floods.
Industries Minister said that Indian Oil Depot was being opened at Una and possibilities were being explored for opening CSD canteen. He said that Bus Stand would be constructed again at Una which was neglected by the previous BJP Government. He said that IIIT was also being established in the district by spending Rs. 122 crore.
Kuldeep Kumar, Chairman, Finance Commission, Rakesh Kalia, MLA, Onkar Sharma, Ex- Chairman, H.P. Agro Packaging Industries Corporation, Virender Dharmani, President, District Congress Committee, Ram Dass Malangar, Ex Deputy Speaker, Satpal Raizada, Member, PCC also spoke on the occasion.
Haroli Block Congress President Rajender Rana welcomed the Chief Minister. Prakash Chaudhary, Excise and Taxation Minister, Dr. Col. Dhani Ram Shandil, Social Justice and Empowerment Minister, Inder Dutt Lakhanpal, Chief Parliamentary Secretary, Sanjay Rattan and Rajender Rana, MLAs, Ram Nath Sharma, Ex Deputy Speaker, Bawa Hardeep Singh, Chairman, H.P. Buildings and Other Construction Workers Welfare Board, Jagdish Sipahiya, Chairman, Kangra Central Cooperative Bank, Mohan Mehta, Chairman, Jogindra Bank, Ramesh Thakur, Chairman, APMC, Solan, Shiv Kumar Saini, Chairman, APMC, Una, Atul Sharma, Vice Chairman, HPSIDC, Major General Vikram Singh, Ex Chairman, Ex-Servicemen Welfare Corporation, Ramesh Chauhan, Member, PCC, Avtar Saini, brother of former Minister Hari Narayan Saini, religious leader Baba Sarbjot Singh Bedi, R.K Sharma, E-in-C (IPH), Rajender Singh, Director, Information and Public Relations, Abhishek Jain, Deputy Commissioner, Una, Anupam Sharma, SP, other senior officers and prominent persons were present on the occasion.