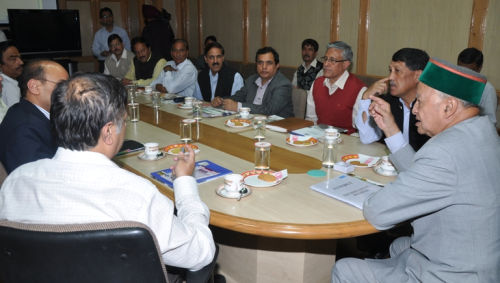 Chief Minister Virbhadra Singh said that the building of Community Health Centre (CHC) Sunni in Shimla district and a cluster of residential quarters for Chief Parliamentary Secretaries would be constructed by Synergy Thrislington, a Mohali based Infrastructure Company. He said that both the projects would be constructed in concrete structure and completed in a short period of time.
Virbhadra Singh was presiding over a presentation on Pre-Fabricated Structure and Buildings by Synergy Thrislington here, today. He said that both the projects allotted to the company, one in lower altitude at Sunni and another one at higher altitude of Shimla would also test the acumen of the Synergy Thrislington in swift, fine and dependable construction work. He said that both the projects would be constructed at a faster mode by the company but there would be no compromise with the quality.
Chairman and Managing Director, Synergy Thrislington, Harpal Singh gave a brief introduction about company and said that his team had made a record of constructing ten storyed building at Mohali in just 48 hours which had been recorded in Limca Book of Records as fastest constructed building in India. He said that buildings constructed by Synergy Thrislington were fire resistant which could withstand earthquake of Zone-V. He said that the Company had two pre-fabrication companies at Nalagarh and buildings were tested and approved by Structure Engineers Research Centre (SERC) Chennai which was a CSIR, a Government of India agency.
Member Executive Council HP University Chandershekhar, Chief Secretary Sudripta Roy, Additional Chief Secretary P.C. Kapoor, Principal Secretary to Chief Minister V.C. Pharka, Principal Secretary Health Ali Raza Rizvi, Principal Secretary Education R.D. Dhiman, Joint Secretary PWD Lokender Chauhan, Joint Secretary Health Amitabh Avasthi, Director Medical Education Dr. Jaishree Sharma, Director Health Services Dr. Kulbhushan Sood, Director Education Dinkar Burathoki, Senior Architect N.L. Negi, Chief Engineer PWD D.K. Nayar and other officers were present on the occasion.