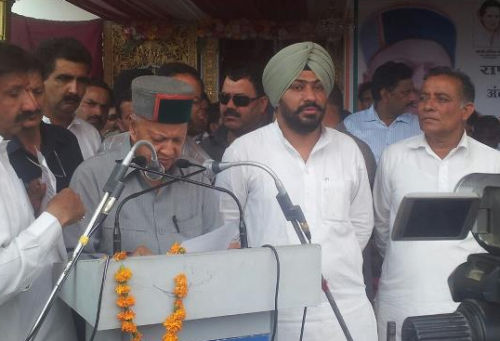 Chief Minister Virbhadra Singh said that four labour hostels would be constructed in the State to provide better residential facilities to the working labourers by spending Rs. 2.50 crore on each hostel. He was addressing a mammoth gathering during a function organised on the occasion of International Labour Day at Tahliwal in Una district today.
Chief Minister said that State Government was committed for the welfare of labourers and labour laws were being strictly implemented in the State. The State Government had taken effective steps to provide them better residential and health facilities. The medical reimbursement allowance of the labourers had been enhanced from Rs. 1000 to Rs. 5000 per year besides increasing the financial assistance for education upto two children, from Rs. 10,000 to Rs. 15,000. The State Government has also increased the financial assistance to next of kin of the labourers from Rs. 50,000 to Rs. one lakh in case of his death, he said.
He said that State Government had taken decision to give Skill Development Allowance to unemployed educated youth and 5000 labourers working in building and construction works alongwith their dependents would be imparted skill development training this year.
Virbhadra Singh announced to develop new industrial area in Una district, besides opening Primary Heath Centre at Panjawar and labour hostel at Tahliwal/Bathu village. He said that Tehsil Welfare Office would be opened at Haroli and Haroli-Rampur Bridge would be constructed on priority. He also announced the construction of bus stand at Haroli and one ITI in this constituency. He said that a Football Academy would be opened at Khad for which he announced Rs. 10 lakh. He also announced Sub Tehsil at Ispur in Una district. He announced to re-name Government Senior Secondary School, Santokhgarh as Virender Gautam Memorial Government Senior Secondary School.
Speaking on the occasion, Industries, Labour & Employment Minister Mukesh Agnihotri complimented the Chief Minister for having completed 50 magnificent years of political career and 30 years in State Vidhan Sabha. He said that Virbhadra Singh defeated the Mission Repeat of BJP which had indulged in corruption and nepotism. He said that the present Congress Government had ensured transparent and responsive Government to the people of the State and during its short tenure of four months various milestones of development had been established.
Agnihotri said that provision of about Rs. 300 crore had been made for subsidy to the domestic electricity consumers of the State and they would not be affected from the hike in electricity tariffs as recommended by the Electricity Regulatory Commission. He said that State Government had given free travelling facility to the government schools students in HRTC buses, social security pension had been enhanced from Rs. 450 to Rs. 500 per month and a subsidy of Rs. 175 crore was being given to provide essential food commodities at subsidized rates. He thanked the Chief Minister for abolishing tax on tractors.
Bawa Hardeep Singh, State INTUC President and Chairman, H.P. Building and Other Constructions Workers Welfare Board welcomed the Chief Minister and apprised him about various demands of the workers.
Rakesh Kalia, MLA also welcomed the Chief Minister. Transport Minister G.S. Bali, Forest Minister Thakur Singh Bharmouri, Urban Development Minister Sudhir Sharma, Chairman, 20 Point Programme Ram Lal Thakur and MLA Kuldeep Kumar, Vice Chairman HRTC Kewal Singh Pathania, District Congress President Virender Dharmani, President and other prominent people of the area were present on the occasion.