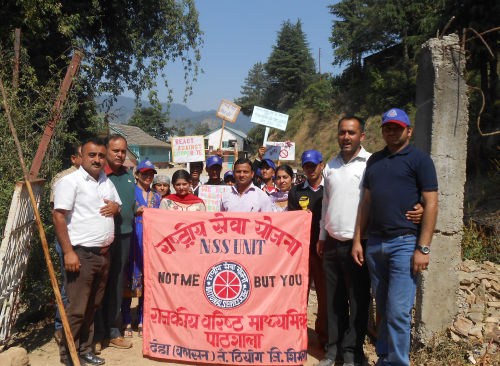 To mark the World No Tobacco Day (WNTD), Government senior secondary school Deha organised an awareness rally at small town Deha. Hundreds of school students, dressed in NSS and NCC dresses, took out awareness rally at Deha and tried to educate tobacco users about its adverse effects on smokers and passive smokers.
School principal, Gopal Chauhan, advised students to despise tobacco products and informed that tobacco smoke produces more than 4,000 chemicals, out of which at least 250 are known to be harmful and more than 50 are known to cause cancer.
NSS program Officer Jitender Dogra and Radha Suman also took part in the rally. D-P-E and NCC caretaker at Deha School, Rohit Bhandari advised students to be active in sports and study. He said that only stressful person are inclined to smoking and advised to take sports activity on regular basis as it helps in keeping stress away.
Every year May 31 is observed as World No Tobacco Day (WNTD) around the globe. It is intended to encourage a 24-hour period of abstinence from all forms of tobacco consumption across the globe. The day is further intended to draw global attention to the widespread prevalence of tobacco use and its negative health effects, which currently leads to more than 60 lakhs deaths worldwide every year with India accounting for nearly a fifth of this. According to Global Adult Tobacco Survey (GATS) – India 2010, tobacco use is a major preventable cause of death and disease and is responsible for 1 in 10 deaths among adults worldwide.
The member states of the World Health Organization (WHO) started World No Tobacco Day in 1987. In the past twenty years, the day has been met with both enthusiasm and resistance across the globe from governments, public health organizations, smokers, growers, and the tobacco industry.