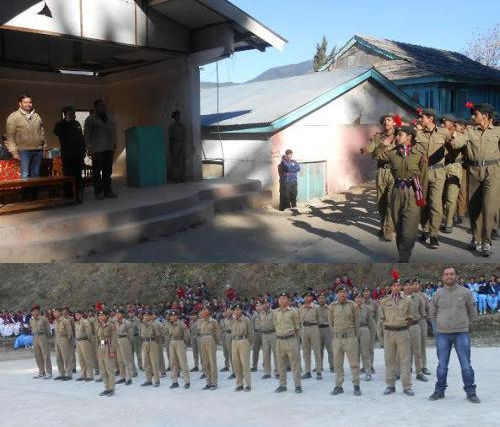 Deha/Theog: Govt Senior Secondary School Deha celebrated 65th NCC Day here today. NCC cadet presented spectacular parade, where as many as 45 NCC cadets participated.
Gopal Chauhan, principal GSSS Deha, inspected the parade. Suresh Thakur, ANO, Rohit Bhandari presented on the occasion. Gopal Chauhan, in his address, stated that NCC teaches a lesson of discipline and teaches about the importance of discipline in life. He added that NCC teaches respect for diversities in religion, language, culture, ethnicity, life style and habitat to instill a sense of National unity and social cohesion. He also honoured Nikita Chauhan and Akraj Thakur with best cadet award.
Suresh Thakur, ANO apprised NCC cadet with the usefulness of NCC and said that NCC develops character, comradeship, discipline, leadership, secular outlook, and ideals of selfless service amongst the youth.
Rohit Bhandari prepared cadets for the spectacular parade and encouraged more and more student to take up NCC as their regular curriculum. He said that NCC develops a sense of patriotic commitment to encourage cadets to contribute to national development. He also asked students to averse from drugs.