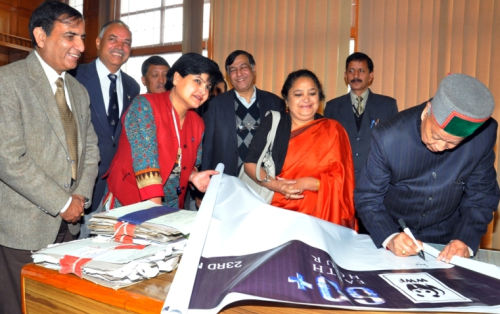 Shimla: Chief Minister Virbhadra Singh launched an Earth Hour Signature Campaign of World Wide Fund (WWF) for Nature-India, giving message of and inspiring individuals, business, educational and other institutions and organizations to ensure a better future planet and combat climate change by switching off non-essential lights for one hour on 23rd March, 2013.
Chief Minister gave a message of 'Save Energy Save Climate' and also assured to switch off lights of his residence at 'Oakover' from 8.30 pm to 9.30 pm on 23rd March, 2013 to mark the Earth Hour occasion.
The lights of three iconic buildings of Shimla viz. Town Hall, Oak Over and Church would also be switched off to mark the occasion.
Chief Minister lauded the efforts of WWF to organise such awareness activities in schools and colleges and said that similar action by the entire world would help saving power and would help in creating awareness about climatic change the world is going through due to global warming.
The WWF had also appealed to the citizens to participate in Earth Hour Campaign by switching off their lights from 8.30 pm to 9.30 pm on designated date.
Forest Minister Thakur Singh Bharmouri and Chief Secretary S. Roy also signed the Earth Hour Campaign. Principal Chief Conservator of Forests R.K. Gupta, Additional PCCF Praveen Thaplyal, Additional PCCF, Administration Savita, State Director, WWF, India Dr. Vandana Thaplyal and other officers were also present on the occasion.