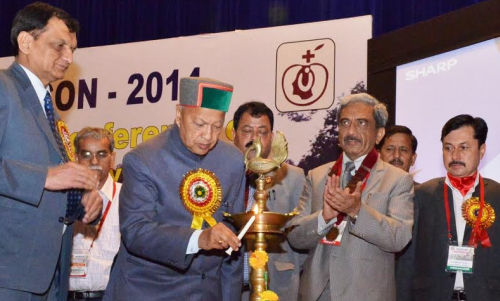 In the 27th National Conference of All India Rhinology Society and 16th Annual Conference of AOI, Himachal Chapter organized by the Department of Otolaryngology at IGMC, Shimla Chief Minister Virbhadra Singh claimed that the State Government is making concerted efforts to increase the number of specialized doctors so that specialized health services could be made available even in hard and far-flung areas of the State. Keeping this in view, the State is endeavouring to increase the number of Post Graduate seats in IGMC, Shimla and Dr. Rajinder Prasad Medical College, Tanda.
While addressing the Conference, Singh stressed the need for dedicated medical services for the benefit of the poor, deserving and the less privileged section of the society. The government was determined to provide best medical care to the people of the State besides best consultancy services.
The Chief Minister claimed that during the last one and half years, the State Government had made concerted efforts to up-grade the Government Medical Colleges and hospitals associated with them. The Super Specialty Services were being up-graded with financial assistance from Government of India. He said that Kamla Nehru Hospital of Shimla was being up-graded as full-fledged Mother and Child hospital. To decongest the IGMC, Shimla another campus of this hospital would be constructed at Ghanahati near Shimla adding that the construction work of new OPD and Administrative blocks at IGMC would be completed soon.
Virbhadra Singh said that ENT-HNS specialists had been posted in most of the District Hospitals of the State and assured to provide adequate equipments and paramedics to district hospitals in a phased manner. As many as 80 ENT-HNS surgeons trained at IGMC were delivering expert services in India and abroad. He said that good initiative had been taken by the Neurology Department of both the Medical Colleges for telestroke project and out reach services would commence shortly at Solan, Nahan, Hamirpur and Dharamshala. He said that this was indeed a big leap and other departments should also come up with similar initiatives. He said that both medical colleges were tying up with the AIIMS, New Delhi and PGI Chandigarh for tele-education purposes.
The Chief Minister also released souvenir and directory of All India Rhinology Society and Clinical Rhinology Journal on the occasion.
Earlier, Dr. S.S. Kaushal, Principal, IGMC welcomed the Chief Minister and others. He said that the three day deliberation on Rhinology would be fruitful for every participants and budding students.
Dr. Ashok K. Gupta, Prof. & Head Department of Otolaryngology, Head and Neck Surgery from Chandigarh presented key note address. He said that there were 45 million blind people in the world which include 12 million people from India alone. Dr. Arvind Soni, President, All India Rhinology Society also spoke on the occasion. Dr. N.K. Mahendru, Head ENT Department proposed the vote of thanks.
Dr. Ramesh Chand, Senior Medical Superintendent IGMC, Dr. Sanjay Sood, Secretary All India Rhinology Society, Dr. R.P. Luthra, Principal Dental College Shimla, Prof. A.K. Gupta, ENT, N.K. Lath, Assistant Director Administration IGMC, delegates from all over the country, HODs of IGMC and other prominent persons were present on the occasion.