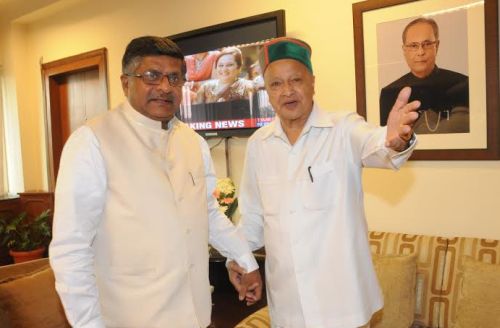 Chief Minister Virbhadra Singh met with Union Minister for Communication and Information Technology Ravi Shankar Prasad at New Delhi today and stressed upon the need for better communication network in the tribal and far-flung areas of the State by strengthening broadband services and mobile facilities.
He informed that due to heavy snowfall in tribal areas the communication services get disrupted and so were the power and mobile services which hampered the normal life particularly during disasters.
Chief Minister, while congratulating the Union Minister for taking over the charge of Ministry, urged for improvised communication services and better network in the State, besides, facilities as solar power in far flung areas so that the mobile and broadband services may not get affected.
Virbhadra informed the Union Minister that the State had wide network of communications right from higher offices till the rural level which was helping in providing transparent administration to the people of the State. He said that the Government had started IT courses in its school syllabus to prepare the younger generation to be IT savvy.
Union Minister assured the Chief Minister that the Centre would take all necessary measures to strengthen the IT network and similar facilities for the State.