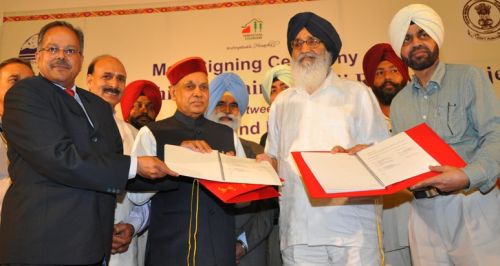 A Memorandum of Understanding (MoU) was signed between the Governments of Himachal Pradesh and Punjab States to enter into an agreement to connect prominent shrines of Naina Devi jee in Himachal Pradesh with Sri Anandpur Sahib, in Punjab State, with ropeway, as joint venture project. The MoU was signed in the gracious presence of Chief Ministers of both States, Prakash Singh Badal, Chief Minister, Punjab and Prem Kumar Dhumal, Chief Minister of Himachal Pradesh. Dr. Arun Sharma, Director of Tourism and Civil Aviation, Himachal Pradesh signed the MoU on behalf of the Himachal Pradesh Government and Dr. K.S. Sra, Director of Tourism Punjab on behalf of the Punjab Government, in a prestigious ceremony organised in the Darbar Hall of Peterhoff here today.
The ropeway will be 3,751 meters, out of which 274.582 meters area fall in Punjab State and 3,476.435 meter area in Himachal Pradesh. The project is estimated to cost Rs. 85 crore to be shared on 50:50 basis by both the States and will be completed in three years time.
Prakash Singh Badal expressed happiness for signing the MOU which would further strengthen the bond of brotherhood between both the States. He said that it had been the result of meetings held by both the States at different level which had now taken final shape to execute the project. He said that about 70lakh devotees visit Sri Naina Devi jee every year out of which 90 percent visit Sri Anandpur Sahib. He said that the project was bound to reduce air and noise pollution caused by the vehicles carrying devotees to Sri Naina Devi jee and instead enjoy ropeway ride to and fro Sri Anandpur Sahib.
Punjab Chief Minister said that under his Chief Ministership, Punjab had always maintained warm relations with Himachal Pradesh and all inter-state issues had been resolved in a most harmonious atmosphere. He said that it was due to the consistent pursuance of Prof. Prem Kumar Dhumal, that the project had reached implementation stage and one more bond of mutual cooperation would be adding another chapter into the history of regional cooperation between both the States. He assured the Chief Minister that Punjab would always be extending cooperation to Himachal Pradesh on various projects of mutual benefit.
Prem Kumar Dhumal welcomed Prakash Singh Badal, Chief Minister, Punjab, to Himachal Pradesh, and thanked him for agreeing to enter into an MoU to undertake the ambitious long awaited ropeway project to connect both, Sri Anandpur Sahib and Sri Naina Devi jee shrines with ropeway to not only reduce distance between both the destinations but also check pollution. He said that this would give boost to religious tourism in both the States. He called it a historic day for both the States when both the States would be undertaking a Joint Venture Project for giving boost to religious tourism. He said that after successful accomplishment of the project the State would be looking forward for similar joint venture to connect Kasauli in Himachal Pradesh with Chandigarh to attract more people visit Himachal Pradesh through ropeway.
Sarvan Singh Phillour, Minister of Tourism Punjab, Ravinder Singh Ravi, IPH Minister, Suresh Bhardwaj, MLA, Rakesh Singh, Chief Secretary, Punjab, S. Roy, Chief Secretary, Himachal Pradesh, Gitika Kahlo, Principal Secretary, Punjab, Anurag Aggarwal, Managing Director, Punjab Tourism Development Corporation, R.S.Gupta, Principal Private Secretary to the Chief Minister, Lokinder Chauhan, Managing Director, HP Tourism Development Corporation, B.D.Sharma, Director of Information and Public Relations, Chander Shekhar Pandit, Superintendent of Police, Gopal Sharma, Director of Hospitality, and other senior officers from both the States were present on the occasion.