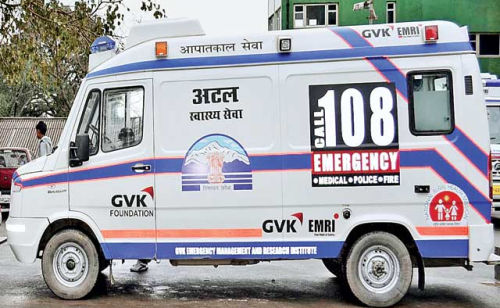 After a long political repercussion between Congress and BJP over the name of 108 Ambulance Service, finally ruling congress has changed its name to National Ambulance Service. Prior BJP Govt has named it Atal Swasthya Yojna.
State Health and Family Welfare Minister Kaul Singh Thakur issued directions in this regard following the decision by the Centre to give the scheme a uniform name all over the country.
After this decision now the photograph of the former Prime Minister will also be replaced by the emblem of the National Rural Health Mission (NRHM). In fact, as per the directions from the Union Joint Secretary, Health and Family Welfare, all the ambulances will now be white in colour and will bear a light green stripe all around.
Thakur said he had directed officials in the department to closely scrutinise documents regarding tendering process and other formalities that were followed while awarding a contract for the 108 ambulance scheme, as there had been allegations of irregularities.
However, BJP leaders are not happy with this decision and blaming Congress for starting a new type of political skirmish and will lead to bitter results in future.