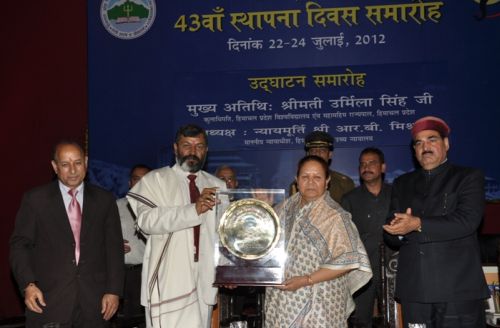 Himachal Pradesh University celebrates its 43rd Foundation Day function here today. Urmila Singh, Governor inaugurate the function. While speaking in the function Governor called upon the students, teaching as well as non-teaching staff in educational institutions particularly of universities to help develop academic atmosphere in campus so as to maintain the standard of education.
Underlying the need of discipline among the students, she said that discipline was the key for any society to develop and prosper. She said that the responsibility of identifying the hidden talent in the students lies with the teachers, so that students could come forward to play a far greater role in National building activities. She said that teaching faculty can lead the students to contribute their worth in the social empowerment activities.
Governor said that for any institution, Foundation Day was the apt occasion to introspect what it had achieved over past one year and at the same time chalk out the strategy for the future. This assumes a greater importance for the Universities as these are the institutions of higher learning which can pave the way for development for the society and Nation on the whole.
Governor expressed satisfaction over certain changes that had been introduced in the functioning of the University over the last one year and at the same time reiterated that there was always a scope for further improvement. She said that all the proposed courses are employment oriented and would prove beneficial to the youth of the State. She said that the work was in progress for starting the course of Archaeology in the University, which would go a long way in preserving the remnants of historic civilization and memorials of this beautiful hill State. She said a professional course for Tourist Guide was also being considered to strengthen tourist related activities in the State.
Urmila Singh said that the purpose of ideal education was not only restricted to obtaining degrees but should be aimed at the overall development of an individual. Governor also released University's News-letter 'Himshikhar' and other publications on this occasion.
Speaking on the occasion, Justice R. B. Mishra, Judge Himachal Pradesh High Court said that Universities were the centre for inculcating values in an individual to work for the welfare of all irrespective of caste, creed, religion etc. A.D.N. Bajpayee, Vice-Chancellor, HPU welcomed the Governor and detailed out the achievements of the University during last one year. C.P. Verma Registrar, HPU proposed vote of thanks.